Most people only think about the zombie apocalypse when they're watching "The Walking Dead." But when you're a sysadmin grappling with nightmarish VM performance, the uprising of the undead can haunt you day after day. And it's not just zombie VMs scavenging for power or those vampires known as rotating disks sucking the lifeblood out of your system's performance; there's a host of storage problems that can leave you stuck in an exponentially growing crisis.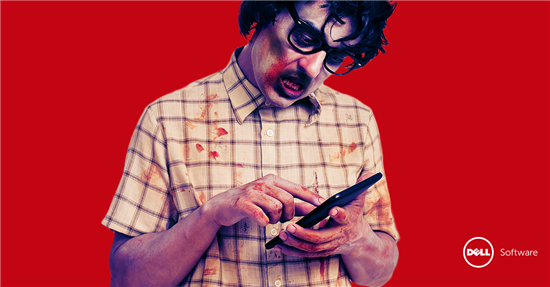 It's time to fight back.
When you're caught in a vicious battle against evil, you've got to call in the big guns. Just as you wouldn't go up against a wall of shuffling, blood-thirsty maniacs without a chainsaw, it wouldn't make sense to fight off your own virtualization monsters without a little backup.
We've got you.
We're here to help with the four tips that'll empower you to become the Rick Grimes of resource planning.
There's a new Rick Grimes in town.
Here are the top four ways to overcome the dangers of those lumbering, grumbling virtualization horrors that keep you up at night:
Tip 1: Obtain storage statistics.
To ward off threats, you need to know what's coming at you – from every direction. That's why it's critical to obtain storage stats not just from your virtualization management platform, but also directly from your physical storage systems as well. With that firsthand perspective, you can easily prevent resource starvation issues, performance bottlenecks and more.
Tip 2: Ensure optimal storage performance.
When you're in the fight of your life, getting caught up in the blame game only wastes time and increases risk. With a clear and linear visualization − from the VM to the physical disk − you can put an end to cross-team finger-pointing over performance issues and turn your attention to ensuring optimal storage performance.
Tip 3: Track the right stats for your environment.
Vigilance is crucial as a virtualization administrator, and tracking some specific performance stats is the key to thwarting major decline. Staying on top of latency and Input/Output Operations per Second (IOPS) is what'll make you a storage management hero.
Tip 4: Analyze performance and capacity.
To survive the perils of virtualization performance issues, you need a powerful tool that takes into account the constantly changing nature of your environment, while still knowing what a normal baseline is. A solution like that will help predict potential performance problems and capacity shortages and, more importantly, prevent them. Because a little psychic ability goes a long way in an environment overrun with threats.
New e-book: Tips and Tricks for Optimizing Storage Management
Don't let storage management issues devour the brain of your organization. Protect your virtual environment from zombification and more. With the targeted strategies in our new e-book, you'll get to spend more time watching the new season of "The Walking Dead," and less time worrying about work.