I 'm not afraid to admit I really love the Office 365 version of SharePoint. I couldn't say the same about BPOS but with Office 365 it just feels like SharePoint, and that's a good thing. If you aren't already looking at Office 365 put aside any worries you've had in the past and at least spin up a demo pronto. Naturally one question a lot of folks ask is "what do I lose by going up to Office 365 for my SharePoint needs".
While it's not quite the SharePoint that I have on my server here in the office the experience is close. There aren't a lot of differences, at least in management, but you should be aware of the minor tweaks and missing items when you move to Office 365. Certainly none really stop you from enjoying the great online experience.
Let's dig into some of those differences and look at some of the core administrative tasks are undertaken by both the on-premise and the online versions of SharePoint and really how similiar they are.
Site Creation
Take Site Creation for example. On my on-premise server when I go to create a Site I get this dialog. I haven't added a lot to this server so this is pretty much what you would get out of the box as well. It's fairly functional and complete but maybe not all that user-friendly.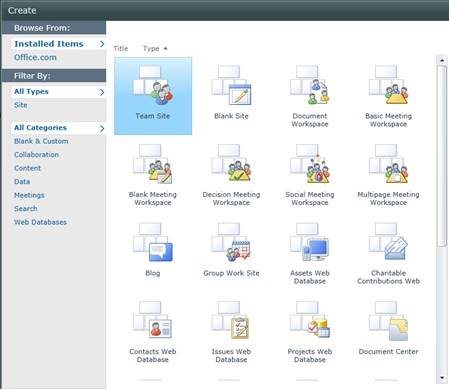 When I call up the same dialog within Office 365 I notice a few things. One is the dialog is a bit more "end-user" friendly. This Featured Items view isn't available yet to on-premise. This clearly is because of the type of folks who may be using 0ffice 365. They may not be SharePoint savvy or even have a SharePoint admin to fall back on so visual help and guides have an impact. There are also a lot less templates to choose from initially (but you can see the rest in the Browse All). So makes the initial site creation process, especially for folks new to SharePoint, better! Score one for Office 365.
Permissions
SharePoint permission management isn't very fun whether you are using on-premise or in Office 365 but there are some minor differences as well. Overall the experience is the same although the accounts you use may be different from the ones you use into the firewall. But the same site and library centric approach is taken. So either way you will struggle to make sure you have all your permissions set up right (but Quest can help here, just wait until the end of this entry)

While the tool bar in Office 365 has a few less items, it is still the most functional ones. It also changes based on whether you are inheriting permissions or not. The only things really missing as the Permission Levels and Manage Access Requests and those aren't huge items in most cases.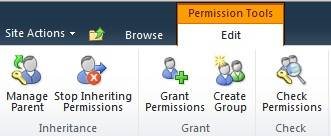 Site Settings
Site Setting is another area where you have a few more options with your on-premise, but again they are fairly minor. For example Site Web Analytics are one option not currently available online.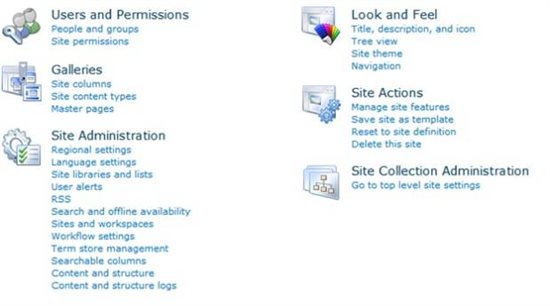 Clearly there are feature options such as our own Site Administrator that you can load up in your environment but can't yet be used up in 0ffice 365. As more and more products move to the cloud model this will become less of a problem. That is one also one big core advantage of the cloud model. When Microsoft adds features you get them immediately and without having to schedule time within IT to do this.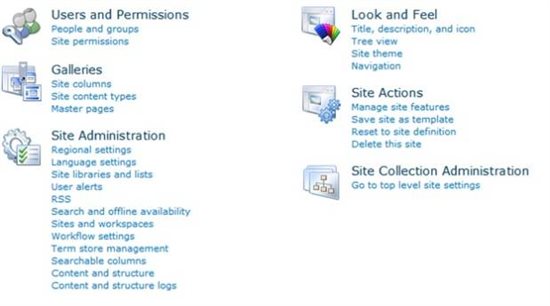 0ffice 365 Management with Quest Site Administrator
So clearly one thing that is still the same is that core reporting and permissions management will be a struggle in Office 365 just as they are on-premisee. Last year we released a version of Site Administrator with a Office 365 module and it really helps where native Office 365 management trials off.
You don't need to install or get anything approved for 0ffice 365, just point and shoot and as long as you have access you are good to go. For example remember we talked all about the challenges of permission management, well here you have it and in a centralized view too. We also get info on your billing, how much of your quota you are using, how active your Office 365 environment has been. And like Office 365, our version is also in the cloud so as we improve it you get the improvements instantly as well.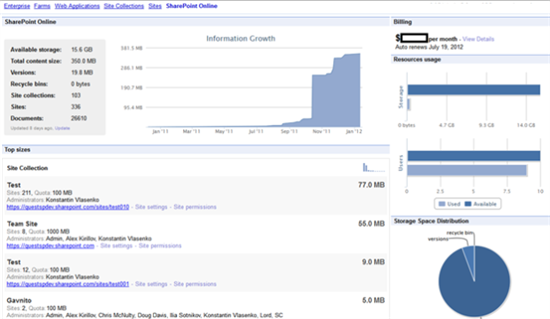 So there you have it. Embrace Office 365 with it's very similar management framework and great collaboration experience and for where it falls off (much like on-premise SharePoint) look to vendors like Quest to meet you needs, today and into the future.