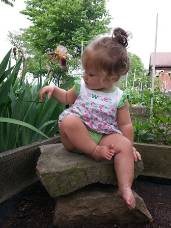 Lately my 15 months old daughter has picked up a bad habit. Here's how it goes.
I'm driving along in my car with my daughter happily strapped into her ginormous toddler seat.
The sound of her giggles and coos from the back seat fill my heart with joy.
Then, amidst this happy family moment, I hear in the lilting voice only a happy baby can make, "Sh!!!!t. Sh!!!!t. Sh!!!!t" followed immediately by more giggles and coos.
Inside I begin cursing my US Navy husband for letting his sailor mouth run too rampant around her. But to Sally I exclaim, "Oh Sh!!t, Sally, you can't say that wor…." I slam my hand over my mouth and realize too late that I've played a role in the infamous start to her linguistic life.
True story!
Before she came along, my minor verbal infractions were relegated to private moments when something unexpectedly bad happened:
accidentally knocking over the Christmas tree
peaking in at the spring seedlings in my miniature greenhouse only to realize I had over saturated and killed them
stumbling across my 115 lb white dog lying on the carpet at night
realizing I had left my purse in the grocery cart when I was almost home
You get the picture. But now, with a child, those private "Oh Ships" are caught, consumed and repeated – and not just in the car – in church, on walks, in an airplane. Now the whole world knows I secretly have the mouth of a sailor.
In SharePoint, we all have those "Oh ship" moments. It happens when we delete an important document or get click happy on the site settings page and blow the site to smithereens before we realize what we just did. And lost SharePoint data isn't just a private pain administrator's experience. Just like my daughter exposing my "Shut the Front Door" moments, so to do Users who interact with that data daily. It happens when a user comes running to our desks frantic, yelling and pleading all at once for the sales presentation he had on SharePoint that is just now gone and which he needs in a few hours.
But the pain doesn't stop there. We feel the full effects of my daughter's favorite word when we try to restore the site because it's not sitting neatly in our recycle bin. And speaking of recycle bins, ours are so overloaded we can't easily find the salesman's presentation. Restoring a document with native tools takes hours and scales up to days and weeks when you're talking about a farm restore. Everything else in between takes just as long and is just as much of a bear.
I don't really need to expound upon the recovery process. We've all experienced it. We all know how painful it is (if you have yet to then check out these processes for various native restore scenarios here).
Basically a lot more "Oh ship" moments are in store for your native SharePoint restores, but Recovery Manager for SharePoint makes recovery fast and simple. Just take a look at the screenshot below to see one example of how simple it is to restore a single item: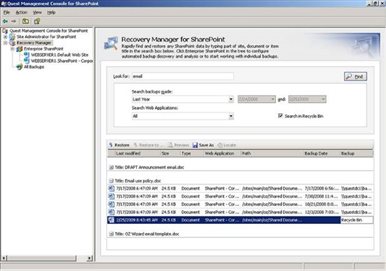 Recovery Manager gives you an easy to use interface where you can search all backups made for a particular content database and across Recycle Bins for a file name, partial file name, file extension and so forth. Who wants to try to restore a single item natively when you can do the SharePoint recovery with Recovery Manager?
Recovery Manager also restores full farms, web applications, site collections, sites, and on down to the item and document level.
For those "Oh Ship" moment, remember to Download the Free Trial of Recovery Manager so you can be the hero!