One Ring to rule them all, one Ring to find them,
One Ring to bring them all and in the darkness bind them.
~ J. R. R. Tolkien, The Fellowship of the Ring, 1954, chapter 2
The quest for ultimate authority and rule is as old as original sin. Admit it, there is an allure to this concept, it's why Isildur never threw the ring into the flames of Mount Doom, why Gollum calls it "Precious" and why character after character looks lustfully after it and the ring-bearers.
In a similar vein, we see this allure spelled out for us by various unified communications vendors. One communication tool to bring all your users, customers, partners and vendors into commune with one another. It's as beautiful and as scary as Galadriel with the One Ring herself: "All shall love me, and despair!"
All shall love me, and despair!
Yeah, that sums up a lot of UC deployments. Folks put it out there, pitch it to users as this amazing interconnected communication system and then…
you despair because you're not sure if people are using this awesome new investment
users despair because they don't have enough training or the experience is poor so they go back to using what they know
accountants despair because they're still paying for the costly, traditional systems that are still heavily used
IT managers despair because they have no way to see who is using what systems
And this is when another UC system creeps in promising to bring all your users, customers, partners and vendors into commune with one another. Huh?! Wait, isn't that what the other guy promised?
It's the allure of the One UC ring! Its why even Frodo himself succumbs in the end.
Too many ring-bearers to manage
At this place in our story is where we see multiple UC platforms. As I mentioned in my previous blog post, sometimes multiple UC platforms work in harmony (like the Fellowship) and sometimes, even within that Fellowship, you have competing agendas, driving organizations to choose to consolidate their UC platforms.
In a recent No Jitter article, Irwin Laza, the author, cites Nemertes Research that highlights the trend for enterprises to consolidate onto a single-vendor platform. This trend shows a 12% jump in organizations planning a consolidation project this year as opposed to last year, and by 2016 the total number of organizations consolidating jumps all the way to 45%. The majority of folks have either Microsoft or Cisco and those are the two platforms from which they are deciding between for consolidation.
Many are trying to rationalize the costs, support and risk to employee productivity of these various systems. Yet, these same organization do not have any insights into who is using which platform and how they are using those platforms. This is costing organizations in lost productivity, support man-hours and millions of dollars in software platform costs and renewals.
The Trend: Finding your Samwise and rationalizing UC
As mentioned earlier, Frodo does succumb to the power of the ring. In fact, he's pretty weak. It's Samwise, the honest gardener, who has the purest heart to keep Frodo moving forward to accomplish their ultimate goal.
Organizations' ultimate goals is to have a communication system that brings their users, customers, partners and vendors into commune with one another. They need their own Samwise to give them the guidance on what is being used, how and what is not.
Enter Unified Communications Command Suite (UCCS), the only analytics and diagnostics solution on the market for Microsoft Exchange and Lync. Now, with the release of v8.1, UCCS adds Cisco Unified Communications Manager (CUCM) support as well as Office 365 for Exchange Online and Skype for Business.
UCCS is that Samwise for Cisco and Microsoft organizations, providing cross-platform usage, trend and even chargeback data to guide organizations in their UC journey. Below is a screenshot of one of those cross-platform reports, showing Exchange, Lync and Cisco activity usage over a period of time, comparing feature use by department, user, region or office.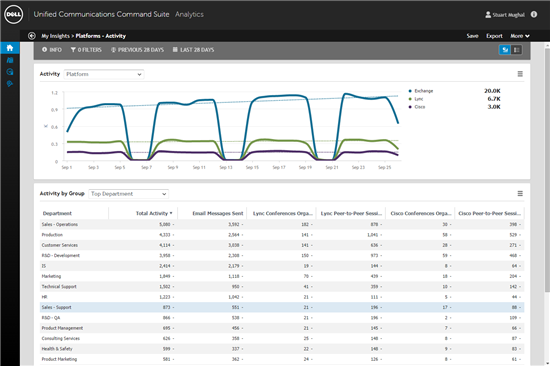 UCCS monitors usage and trends within CUCM and builds chargebacks based on call types, users and departments. Customers use it to get an overview and inventory of your environment, conferences and peer-to-peer sessions and compare usage to Microsoft Lync/Skype for Business to help make informed decisions about the rationalization of your UC environments.
Be your own Samwise and experience this for yourself in this online trial (no download, no long loading times). See for yourself these cross-platform analytics!