More and more organizations are adopting unified communications (UC) solutions in order to improve collaboration and reduce costs. But managing those UC systems effectively can prove challenging. Whereas traditional phone, conferencing and collaboration platforms were often managed externally, IT professionals are now expected to maintain UC systems in-house. And while 61 percent of organizations need access to UC data and insights on a weekly basis, only 17 percent of them have a dedicated UC administrator. What's the best way, then, to keep your UC environment healthy and available?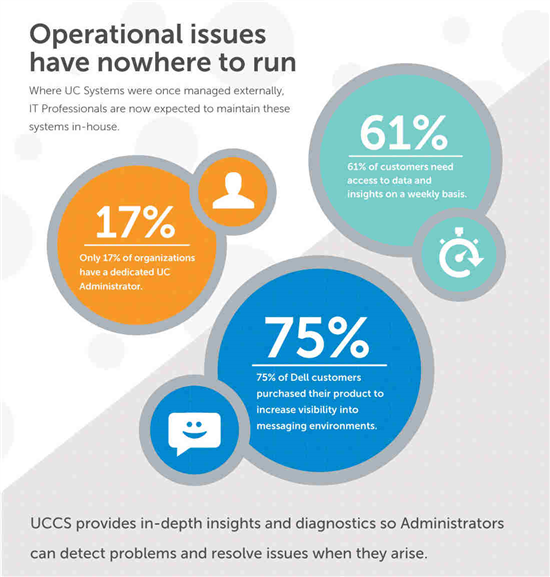 The key is having the right tools. Quest's Unified Communications Command Suite (UCCS) streamlines the management of multiple communication platforms, so operational issues have nowhere to run. UCCS delivers cross-platform analytics and diagnostics so you can maximize the performance and availability of your UC environment. And only Dell offers both analytics and diagnostics across Microsoft Exchange and Lync.
From a single console, you have the in-depth insights and diagnostics you need to detect emerging issues and resolve them quickly, so your UC systems are ready for business. UCCS establishes baseline values for performance across your UC environment, collects data on the schedule you want (including in near real-time), and proactively alerts you to deviations and bottlenecks so you can resolve emerging issues before they affect users.
You can keep tabs on email activity, use of instant messaging and video conferencing, Lync peer-to-peer sessions, and much more. Moreover, you can monitor not only the usage of each feature but quality of experience (QoE) as well. For example, you can identify the network types (Ethernet, Wifi and VPN conferences and peer-to-peer sessions) most associated with poor call quality, as well as determine which locations are experiencing the most quality issues. Then you can drill down to check the call quality for a particular location or particular session so you can troubleshoot equipment, configuration, network or other issues quickly and improve service for users — before they begin bypassing the UC system and relying on other options for communication.
UCCS also tracks usage over time to show important trends. You can chart activity over different predefined time periods, such as yesterday, the last month or the last year, or specify a custom time period. You can also compare the activity of different groups. For instance, you can identify departments or individuals that have failed to adopt particular UC features or whose adoption rates have slowed or reversed, so you can identify training opportunities and improve adoption rates.
Pre-built dashboards deliver all the recommended insights based on your scope of interest or responsibility. The cross-platform dashboard presents key information about the entire UC environment, while the Exchange, Active Directory and Lync dashboards enable those administrators to focus on the data most relevant to them, with other information available but tucked away in the background. You can customize the dashboard by choosing from more than 100 insights in the Insight Library. Even department managers with little technical experience can get the information they need to understand usage patterns, identity issues and increase adoption.
Subscribe to any of the insights and get the information you want in your email on the schedule you want. For instance, you can see Exchange messaging information weekly and Lync usage statistics every morning. With Dell Unified Communications Command Suite, you have the insights you need, when you need them, so operational issues have nowhere to run.
To learn more about how UCCS can help you keep your UC environment healthy and available, be sure to watch our on-demand webcast, "DIY Insights — Pulling IT and Business Intelligence from Your UC Platforms." Also be sure to check out my next blog post in this series to learn how Dell Unified Communications Command Suite can help you measure — and then maximize — the value delivered by your UC platform.