Intended Audience: Stat Functional Users, Technical Users
Intended Subject: Quick Guide to CSR Templates
Intended Reaction: Happy Stat Users
Keywords: Stat CSR Template, Efficiency, Creating & Using CSR Templates
Hello fellow Stat Users,
In this post we will look at increasing efficiency of creating CSR's using a previously saved CSR Template.
What's the reasoning behind the CSR Template?
The logic behind CSR templates is to increase efficiency by reducing the number of key strokes it takes to create a new CSR.
By using a CSR Template, Stat can collect and store your most often used values when creating your next CSR.
An example of this would be as follows: The majority of the CSR's I create are for HR Benefits within my HR Service Domain.
I tend to create CSR's with the type "Emergency Fix". These CSR's always get assigned the same Priority as well as the same
Queue and Assignee.
The values, or fields, that a CSR Template can collect and store are as follows:
Application Environment
CSR Type CSR Status
CSR Priority Workflow
Queue User ID
Highlighted below in Red are the fields of a CSR Template:
How Do I Create A CSR Template?
You create a CSR template just like you were creating a new CSR. Select the blank CSR Template icon from the Stat toolbar:
Select the blank sheet of paper icon highlighted in Green below:
Or from the Stat menu,s elect File > New CSR from Blank: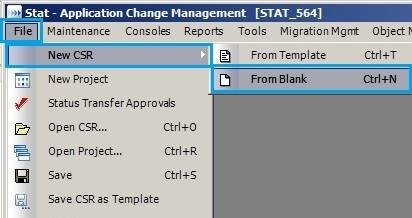 Fill out the CSR with the most common values you would use during normal CSR creation.
Save the new CSR!
With the new CSR still open , go to the Stat menu and select File > Save CSR as Template.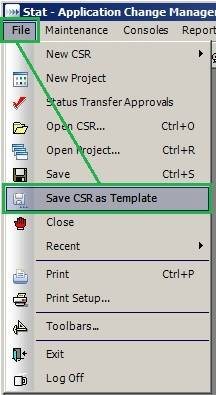 Now, when I select the File > New CSR from Template from the Stat menu :
Or I select the lined paper icon, highlighted in Blue below,

Stat will load a new CSR based on my previously saved values.
Additional Tips:
1. The CSR Templates are specific to each user. Each user can create, and save, their own CSR Template based on their needs.
2. You can have a different CSR Template for each Service Domain you belong to.
3. CSR Templates are a once-and-done process. However, if your role changes, you can update/overwrite your existing CSR
Template at any time simply by repeating the above steps at any time.
Note: If you are updating or overwriting and existing CSR Template, you will get a confirmation message from Stat:
In Closing…
Thank you for taking the time to read this post. I hope you found it informative.
Respectfully,
William R. Hart
Solutions Architect
Dell | Quest Group, Pre-Sales

">4341.3_5F00_Stat_5F00_Menu_5F00_Bar_5F00_Mrkd.jpg