To be clear, this blog post will focus on Stat specific to Release Management and not the song.
What's Important?
There are several key items that are important to know for Release Management:
Your Stat Admin must create the release "labels" in the Maintenance table prior to their use. The Release Management Maintenance table defines major and minor
release labels that users can assign to archive sets. See "Release Management Maintenance" in the Sys Admin guide.
You assign an archive, or code set, to a release on the creation of the archive set within the "Object Management" tab of the CSR.
If you are not familiar with "Mass Migrations" I would strongly recommend looking at them prior to jumping directly in releases.
Assigning Code to Releases:
Associating or tagging an archive set with a specific release is as simple as assigning a value into the "Release" field dropdown menu while creating a new archive set.
Example of a Release Assigned Archive Set:
Below is an example of assigning an archive set to a release during creation: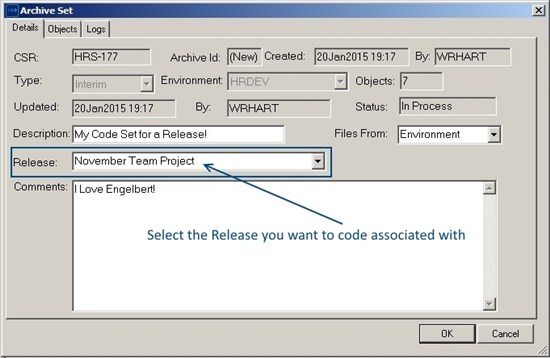 Hint: If you forgot to associate the release label with the code set, you can open the archive set and assign it at anytime. Provided you do not change any of the included objects within the code set,
it should not affect any approvals obtained or information relevant for auditing.
Example of a Release Specific Migration:
If you are doing a Release, or Mass Migration, within Stat, you may not have a specific archive set opened. In that case you can go to the Stat main menu bar and
select Migration Mgmt > Mass Migration
For a release specific migration, you would select the drop-down menu and select the Release Label you associated your code with: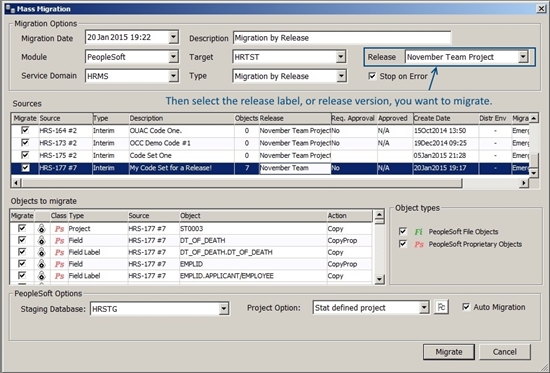 The only thing to do next would be to select the "Migrate" button!
For more information, see Mass Migrating Objects on page 179 of the current Stat Users guide.
We will discuss rolling back at the release level using the Stat Release Recovery Wizard in our next blog.
Thanks for taking the time to read this blog and I hope you found it informative.
Respectfully,
William R. Hart
Solutions Architect
Quest | Pre-Sales
Office +1 727 787 7374
William.Hart@software.dell.com