Yowzaa! That's all I can say. SharePoint Conference 2011 is behind us and I thought I would provide my thoughts on last week's mega-event. For context, this was my first SharePoint Conference. Sure, I've been to many TechEds and even attended a few MECs for those of you old enough to recall those events. So I had some experience in attending a Microsoft victory lap, er, rather, I mean technical conference. But wow.
First, the keynote. Frankly, this was a mixed bag for me. On the plus side there were the following items:
Production value was high as usual. Microsoft does throw a good party. And when you can dig up Luke Perry for a cameo, you know it has to be good…well, it was good anyway.
The "pulled cable" dem oand failover was very impressive, provided your organization can afford 200 quatrillionbillion dollars in hardware.
We learned that Microsoft is moving SPC to an annual event with next year's event being in Lost Wages, I mean Las Vegas.
The biggest miss for me was that there was nothing on the next release of SharePoint. I believe there was a collective sigh of exasperation when Microsoft announced that it would not be discussing the next release. I know I want to learn more and I am pretty sure you do as well.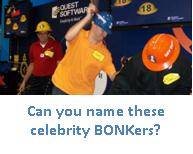 Second, the Quest presence. If you didn't stop by the Quest booth and watch BONK, you are in the minority. Thousands of people were kind enough to drop by and spend as much as 15 minutes watching BONK, Celebrity BONK and BONK High Score. In fact, we gave out several thousand dollarsover the course of the week to a variety of winners!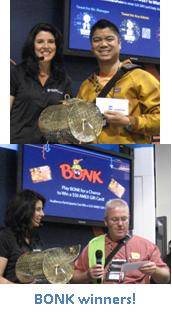 Third, the announcements. Interestingly, the myriad vendors started launching their press releases up to a week in advance of this event as we all jockeyed to "out shout" one another. Quest made two announcements during the event.
We announced the immediate availability of the Migration Suite for SharePoint. This product, which is way easy to use, actually installs in two minutes and you can start migrating in two minutes. How do I know? I've done both. In addition, it's the only product that enables you to migrate SharePoint content, public folders, Windows file shares and Outlook content to SharePoint 2010 on-premises and/or O365 - all from a single product. As they say in Boston, it's wicked cool.
Then later in the week, we detailed how one of our newest customers, RAND Corporation, discovered the simple, focused and fast nature of Recovery Manager for SharePoint, and ditched a competitive product in favor of the Quest product. Welcome, RAND Corporation!
Fourth, the peeps. It was great catching up with my current SharePoint friends and making new ones. I had the pleasure of meeting with several analysts and journalists as well as many from the omnipresent SharePoint community. In addition, we met with several new vendors and learned about the rapidly growing list of tools out there for you to choose from.
One new person I met with was KimForchhammer from Golder Associates AB from Sweden. Kim was the winner of our Web Parts contest, which ran most of the summer, and won an all-expenses paid trip to SPC on Quest. As you may recall, the contest encouraged Web Parts customers to submit their best and coolest apps for judging. The person submitting the coolest of the cool won the free trip to SPC. While I can't guarantee we'll be sending another lucky winner to Vegas next year, you might want to start building your own "cool app" with the Quest Web Parts.
So those are my thoughts/observations from last week. I'd like to ask you to please take a moment and share your SPC thoughts or ideas below. I hope the SharePointConference was as entertaining, educational and productive for you as it was for Quest. We look forward to seeing you at the European SharePoint Conference, the next SharePoint Saturday, SharePointTechCon, The Experts Conference, next year in Las Vegas…you get the idea.
Until next time
Bill
P.S. Check this out if you are still wondering what BONK is all about