By Doug Davis
Just a short note that today we released File Migrator v1.6. Yay, I know it's a bit heavy on the marketing but you get the gist.
Details below:
File Migrator enables organizations to migrate content from files shares and other sources (NTFS, Novell and eRoom) to SharePoint 2007. Easily create migration jobs, filter to refine the document set to be migrated and classify and categorize metadata during the migration. This migration tool is focused on large-scale, bulk migration of content to SharePoint.
What's new in this release
eRoom support – File Migrator now migrates eRoom content to SharePoint 2007. This includes files and documents, providing basic support for eRoom-specific containers. File Migrator maintains all versions, all document metadata and core eRoom metadata. See example of how the data will look before and after the migration: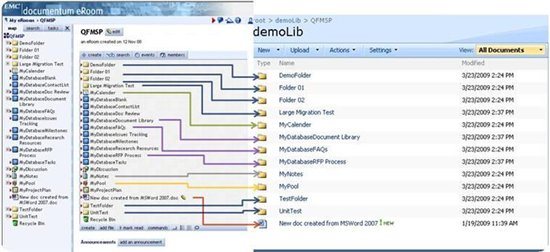 Migration Simulation – you can now run a full simulation of your migration and view all possible errors and warnings that could occur during migration and confirm the list of files to be migrated (or still simply preview your first 500 documents prior to migration to ensure that filtering is working properly and your defined rules meet your migration needs)
Improved Post-Migration Reporting – Ensure success criteria was met immediately after migration.
With this release we are shutting down the 1.6 beta, thanks everyone who participated. You can get a trial version of the software now at https://www.quest.com/solutions/sharepoint/