By Alex Kirillov
Just wanted to let you know that we have just released an update to our Migration Manager for SharePoint product. A Thanksgiving edition :-)
Go get your trial copy from quest.com! The download comes with an embedded 7-day trial license that allows you to test drive all the product features.
In this post I'd like to give you an overview of the new features and improvements we implemented in this new version. Read on!
Robust, Scalable SharePoint 2007 Migration Engine

Starting from this version Migration Manager no longer uses STSADM export/import operations to perform migration. Instead direct Content Migration API calls are employed to do export and import of SharePoint 2007 content. Unlike native content migration tools that rely on bulk export/import operations, Migration Manager 2.1 breaks site migration into multiple migration tasks internally. Each task handles an individual site or list. Should an error occur, only the affected task fails and migration of other sites and lists proceeds. With native tools, the slightest error during export or import causes the entire migration to fail.
Migration Manager makes several retries on the failed task automatically before giving up and reporting an error. You can review the error message, fix the issue and retry that particular task individually, without restarting the whole migration job or cleaning up after the failed migration.
Granular SharePoint 2007 Re-Sync

Another advantage of Migration Manager 2.1 over native is that you can perform resynchronization of SharePoint 2007 migration jobs. Job resynchronization will apply new and updated content, modified settings and security permissions to the target sites and lists. You can re-sync either the whole migration job at once or any specific pair of sites or lists within the scope of the job. No need to clean up the previously migrated content!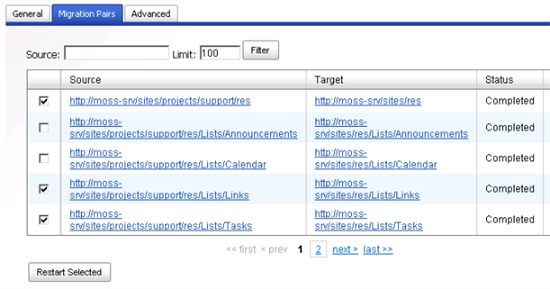 Migration Exclusions

When configuring a site migration job, you have the option to exclude specific child sites, lists and libraries so that only the content you need is carried over to the new location. This saves bandwidth, minimizes unwanted data transfers and helps relieve extra clean-up work post-migration.
Batched List Migration

You can migrate multiple SharePoint lists and libraries with a single migration job. A job can include lists and libraries from one or more sites. This minimizes the number of migration jobs to configure and monitor when consolidating content across multiple sites.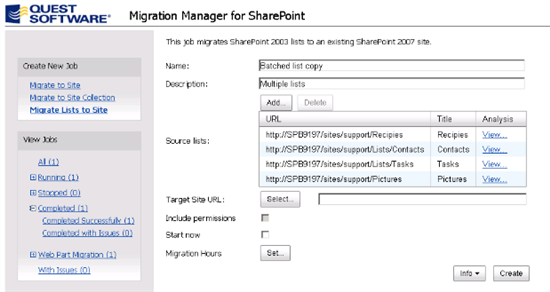 More Granular State-Based Job Views

New job views have been added to provide a better insight into the migration process. By default, you can see the list of major job states. Expand to reveal more granular breakdown for each state.
Enhanced Migration Job Properties

When you switch to the migration job properties page, you will immediately see a number of enhancements implemented in Migration Manager 2.1:
Migration pairs - get insight into which sites and lists your migration job is comprised of, what your source sites and lists are mapped to in the target; and see the completion status of or restart any individual migration task (for SharePoint 2007 to 2007 migrations only).
Last modified - Migration Manager now provides the time metric for SharePoint 2003 to 2007 migration jobs that shows when the most recent modification (edit, add, delete) to the source content (list items, documents, lists, libraries and sites) was detected in the scope of the migration job. This metric helps you understand when it is safe to decommission the source sites and use the migrated sites.
Web part migration view - The web part migration tool now provides a more detailed view of web part migration jobs. For each job, it displays a list of SharePoint 2003 pages and document libraries to be processed as well as their target counterparts in SharePoint 2007.
Information Portal Bundled

Site Administrator's Information Portal comes with Migration Manager 2.1 free of charge! This web-based dashboard portal aggregates data across all SharePoint farms and shows enterprise-level information, allowing to drill down to specific sites and sub-sites. This great tool complements the built-in reports in Migration Manager and can be used for pre-migration and post-migration analysis of your SharePoint environment.
We look forward to hearing from you as you install and play with it! Please share your ideas for new features and how you think we can improve the tool. The Migration Manager discussion forum on SharePointForAll.com is the best place to get in touch with the product team and your peers.