Citing data from its 2010 Enterprise Backup/Recovery Market Update Report (G00171966), Gartner shared some interesting statistics and analysis of what is going on in the data protection market at the recent June 2010 Gartner Infrastructure conference. Far from being a so-called mature market in which their is not much movement among the players to speak of, Gartner's data reveals a highly-dynamic market in which the paradigms are shifting and the market share is changing hands.
Gartner reports that 10 vendors control the overall data protection market. Of these, Quest/Vizioncore is reported as experiencing the highest growth rate for market share in the 2008-to-2009 period. Overall, Quest/Vizioncore is reported as being the seventh largest market share leader in software data protection.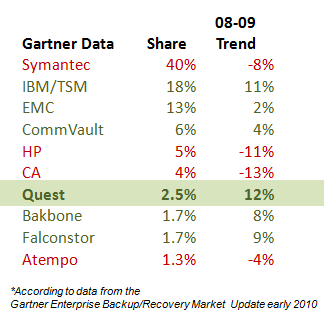 Why is the DP market so dynamic? It seems to come down to these factors all reported by Gartner:
72% of CIOs responding to a Gartner survey reported that their #1 priority is fixing backup. In short, traditional backup methods continue to fall short and cannot keep up with data growth, service level requirements, and the shift to new technologies like virtual infrastructure.
86% of responding organizations are starting to use snapshot and replication to replace traditional backup methods, for at least some part of their data.
20% of responding organizations plan to replace traditional backup methods altogether by 2015
Virtual servers will almost double in the next 2 years
This is all in the context of what remains a very large and growing backup software market, with Gartner reporting overall that the market is sized at $3B for 2010 and expected to grow to $3.6B by 2014.