IDC Tracker data reporting market share positions for vendors in the Virtualization Management Software market came out this month. Quest Software is cited as the third largest vendor overall, behind VMware and Microsoft. Quest Software is the market leader among independent software vendors which do not offer virtualization hypervisor platforms.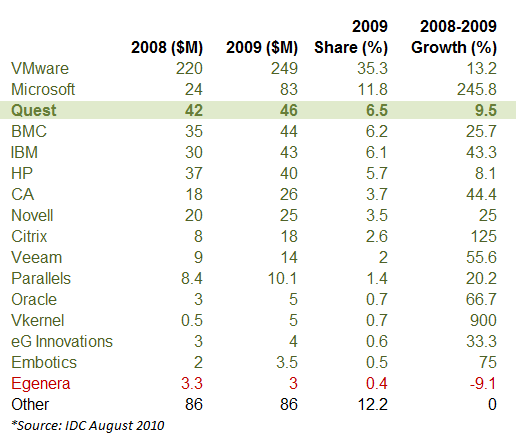 The IDC report from which this data is cited is: Worldwide Distributed Virtual Server Management Software 2010-2014 Forecast and 2009 Vendor Shares, dated August 2010, IDC #2244493, Volume: 1.
In its paper abstract, IDC states the following:
The distributed virtual server management software market is evolving rapidly as
some functionality is increasingly embedded in hypervisor, convergence
infrastructure, and/or physical systems management platforms. As server
virtualization moves into production datacenters, and is widely deployed to power
private and public cloud computing environments, distributed virtual server
management functionality will be in high demand, but the pricing and packaging and
revenue models by which vendors monetize that value are likely to shift. For 2009,
IDC has updated its virtual server management software taxonomy to recognize
these changes. This has resulted in changes to the total estimated size of the market
and VMware's share of the market. Specifically:
' Worldwide revenue for distributed virtual server management software, excluding
management agents embedded with hypervisors or other platforms, is estimated
to total $704.6 million in 2009.
' The market is expected to grow at a 14% CAGR during the 2010–2014 time
frame, resulting in a total market of approximately $1.4 billion by 2014.
' VMware continues to lead the market with a 35.3% market share, followed by
Microsoft with 11.8% and Quest Software with 6.5%.