We are pleased to announce a new major release of Quest Workspace™ ChangeBASE 5.0 . This latest version of ChangeBASE offers a new web-based reporting dashboard and overall enhanced UI which provides a vastly improved user experience. A new exciting component is the addition of Quest Workspace Asset Manager. This will assist in application discovery and rationalization – a major hurdle in many migration projects. These new features will not only make migration easier, but also improve ease of business-as-usual application management.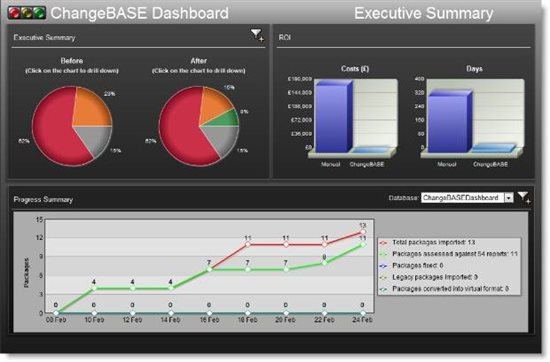 ChangeBASE can help you accelerate your migration projects by up to 50%. Moving to Windows 7, Office 2010, application virtualization and even moving off IE6 is faster, safer and far more cost effective with the latest version of ChangeBASE. It surpasses all application compatibility solutions in breadth of application virtualization assessment, scalability, automated fixes and ease of setup. ChangeBASE can also uniquely provide dynamic OS patching/update checks.
Here is just a sample of some of the new features:
Expanded Application Discovery Capabilities through Asset Manager overcomes many of the challenges around discovering applications and rationalizing application lists to prepare for migration.
New online application readiness dashboards provide compatibility information at a glance in chart and graph format to allow you to view/compare results across different reporting groups. Project tracking and next-step wizards will give insight into application lifecycle projects as they progress.
An enhanced user experience with new updates to the user interface (UI) that make it easier to group, sort and search for information directly from the UI.
New step-by-step application remediation to help you better understand the meaning of issues found and how to best remediate them. ChangeBASE is the only app compat solution to provide user friendly guidance on what the issue is and how to fix it.
Improved support for App-V and ThinApp, enhanced edit package settings and new service pack support
New Quick Start Wizard that makes getting started in ChangeBASE now faster and more straightforward with step-by-step guidance
Want to learn more about ChangeBASE 5? Check out our press release, what's new guide, Windows 7 Migration Video or download the product from Quest.com