Settling in tonight to catch up on Olympics tennis highlights from Centre Court. Seems like only a few weeks ago we were getting ready for Murray v. Federer at Wimbledon. Wait. Haven't we been here before? Have we been to SPTechCon Boston before?
Well, at least I have. I live here in (near) Boston, and it was a great privilege to welcome the SharePoint universe – conference attendees, speakers, consultants, ISVs, friends old and new (hi, Dell team!). Once again, David Rubinstein and his BZMedia team delivered a top notch event with over 1200 attendees.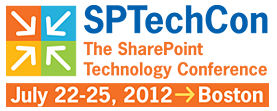 Microsoft released a preview of SharePoint 2013 a week before the event. The SPTechCon team wisely decided to ask speakers to stay with the original topics rather than rushing to prepare 2013 content. (Trust me, there wil be MANY more chances to learn about 2013.) Dropped in on sessions from a lot of great speakers - Mark Rackley, Sadie Van Buren, Paul Stork, Marc Anderson, Scott Jamison, Todd Klindt, Shane Young, Jason Himmelstein, Cornelius van Dyk, Sean McDonough, Christina Wheeler, Stacy Deere, Christian Buckley, Paul Swider, Rob Bogue, Andrew Connell, Brian Jackett, Eric Riz, Stephanie Donahue, Jen Mason, Laura Rogers, and Richard Harbridge, among others! At the booth, we saw some of the highest volume, and highest technical level, of visitors we've ever seen at an SPTechCon event. And lots of great questions about our solutions for SharePoint migration, management, and customization. And lots of Boogie Bots: Trust me, the supply is ENDLESS.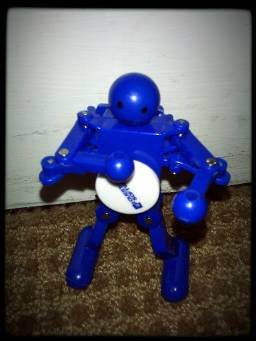 It was also great to meet many SharePoint community members at the Quest book signing. (In case you missed it, download a free copy over at https://www.quest.com/ ). And yes, I'm already working on the SharePoint 2013 Consultant's Handbook. Until it's out (hopefully for Microsoft SharePoint Conference 2012), visit us at https://www.quest.com/products/ for more information on the new release.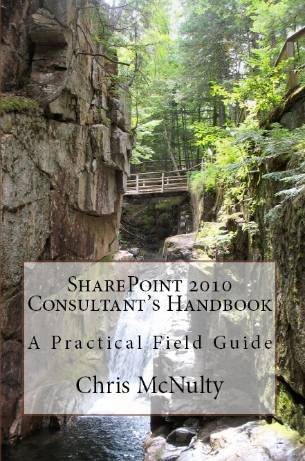 Anyway, I presented three sessions at SPTechCon, summarized below:
Lightning Talk Video – Governance and Adoption in Five Minutes or Less (It was about four – I was a fast talker!) [Thanks to Jeremy Thake at AvePoint for the video!]
The Undiscovered Country – I Have Excel, I Need Performance Point, and I Don't Know Analysis Services (slides)
Climbing Denali – Adding SQL Server 2012 to SharePoint 2010 (slides)
Many thanks also to Michelle Fallon, Tony Richards, Tim Fountain and the multi-talented Dan Barker. Finally, special thanks to a very special visitor – my daughter Rachel (five years old!) who came by the booth Wednesday afternoon. She's obviously a lot friendlier than me, and had a lot of fun pretending to give away the Quest dancing Boogie Bots while slipping them into her bag. (Which means extras for her brother, and our dog.) She may have finshed in second place in the Sentri booth M&M counting contest, but she's first place with us.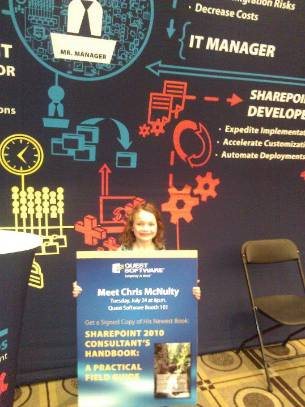 Oh, by the way - as a parent, very very special thanks to EVERY OTHER EXHIBITOR at SPTechCon for ensuring there wasn't a single piece of conference swag that didn't come home with my Rachel. Thanks, and see you at SPTechCon 2013 in San Francisco!