Quest Virtualization Management Group has implemented support in vRanger Pro 4.x, for ESXi platforms. The resulting differences in operation of backup and recovery, are detailed in a recent blog entry.
However, for better scalability and performance when working with ESXi platforms, the Virtualization Management Group is in the process of implementing a Virtual Appliance architecture. This break-through architecture will add distributed client-server processing to the Data Protection Platform (DPP), to ensure scalability, performance and manageability for data protection of ESXi platforms.
What is the Quest Virtual Appliance Architecture?
Previously, working with ESX platforms, vRanger Pro and vReplicator injected a binary at run-time onto the ESX server which performed the backup or replication job and moved images directly from the ESX server to a storage device on the network. This design has many advantages, which includes: no need to deploy nor maintain an agent of any type on the VMware system; movement of images do not need to go through the vRanger Pro or vReplicator server which keeps that server small and distributes processing of data movement naturally into the environment.
To reproduce these key advantages for ESXi systems, Vizioncore has designed a distributed Virtual Appliance architecture. This architecture retains the central vRanger Pro/vReplicator server to ensure manageability but substitutes new Virtual Appliances for job processing and data movement previously performed on ESX servers using the service console.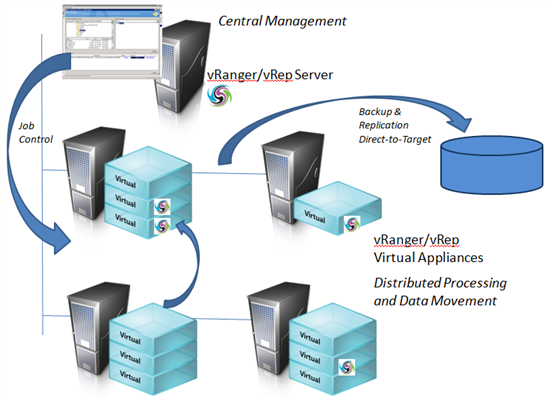 Figure. Quest's VA Architecture Combines the Advantages of Central Management with Distributing Processing and Data Movement
Quest's VA architecture provides these key benefits for image-based virtual data protection, including backup, replication and recovery:
· Seamless scalability by the simple deployment of additional Virtual Appliances into the environment as required
· Easy manageability through a central console, no matter how many Virtual Appliances are deployed
· Preserves the reduced maintenance of an agent-less solution, because the Virtual Appliances can self-update to new versions as available
· Preserves the Direct-to-Target movement of data without having to send images through the vRanger Pro/vReplicator server
Why this is Simply Better than Alternatives
Alternative data protection architectures for ESXi systems require all images to be moved through a single, central server. To scale this requires deployment of additional central servers -- all of which must be individually provisioned, managed and maintained. This is impractical for larger environments, with four or more ESXi hosts running 30 or more VMs. The problems with this single-server architecture are detailed in a recent blog entry.
In environments with 300 or more VMs, a distributed VA architecture is essential to ensuring efficient administration, low infrastructure costs, and fast backup and replication.
For additional details on the capabilities and functionality, which the Virtual Appliance architecture includes, see the attached white paper.
8_2D00_13_2D00_TBV_2D00_VA_2D00_Final_2D00_US_2D00_EH20100813.pdf