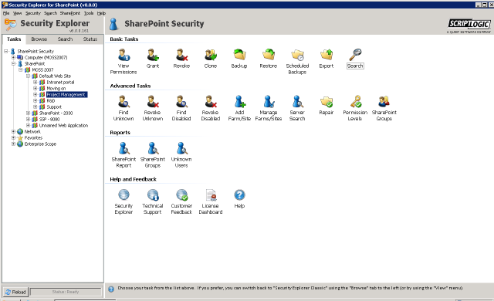 Security Explorer for SharePoint is a feature of Quest Site Administrator for SharePoint that searches for and modifies security on SharePoint servers. Security Explorer's graphical interface increases administrator productivity and provides centralized control, simplifying and standardizing the management of the security resources.
Comprehensive backup, restore, search, grant, clone and export functions take management of permissions to new levels. Tasks that were previously either impossible or extremely difficult are now as simple as Point, Click, Done!
What's new in Site Administrator for SharePoint v4.3
New enhanced user interface.
Ability to work with disabled AD accounts (identify and revoke SharePoint permissions granted such accounts).
Ability to remove deleted AD accounts from the SharePoint groups.
Enhancements in group membership management: bulk changes, clone membership.
Ability to search permissions for multiple accounts with a single query.
With Security Explorer you can:
Manage Permissions
Instant Access to Security and Permissions - No more navigating through files, folders and registry keys selecting Properties and trying to find the Advanced button to see a complete security list! Security Explorer's interface allows for easy navigation of SharePoint servers, and instantly shows both assigned and inherited permissions.
Comprehensive Security Management - Security Explorer lists the current security settings, and allows full granting, modifying as well as cloning permissions on SharePoint servers. Here is the full list of ways you can manage SharePoint permissions with Security Explorer:
view permissions
grant permissions
clone permissions
modify permissions
modify permission levels
backup permissions
restore permissions
export permissions
Search
Finding security weaknesses and over-privileged users as Security Explorer lets administrators search
SharePoint Servers for specific assignments to all types of user and group, including permissions received through inheritance, or where a user or group does not have a specific permission.
Leave the user account criteria blank to search for all items and lists with broken permission inheritance, or search for multiple user permissions with a single query. You can even search for all users who have specific permission level or higher within the search scope you select. Add to that the ability to search within nested Active Directory and SharePoint groups and you get the most flexible and powerful SharePoint permissions search you can think of.
Manage Security
Backup and Restore Permissions - Recovery from accidental changes to security settings has never been easier! Security Explorer can backup complete sets of permissions for files and folders, without having to backup the data they contain. Administrators can then select any combination of files and folders to recover those permissions, without affecting the underlying data or resources.
Export Security Settings in Multiple Formats - Security Explorer can export a database or spreadsheet listing the permissions on files or folders anywhere in the directory tree.