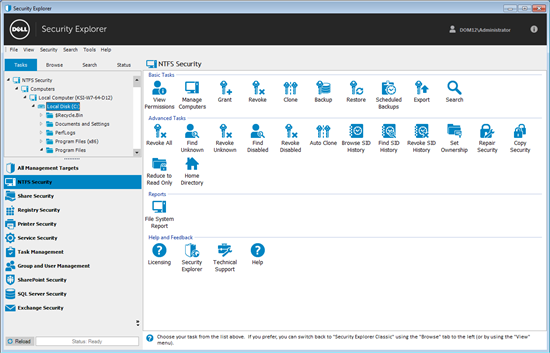 ,
If you manage permissions for Windows Server, NAS/SAN devices, SQL Server, Exchange and SharePoint, check out the all-new Security Explorer 9.5!
Security Explorer provides IT administrators with one platform to manage access controls and security across a Windows network environment. This powerful time-saving tool helps you achieve, maintain and prove compliance and reduce the risk of security breaches.
New features in Security Explorer 9.5 include:
Enhanced platform

support –

Provides support for NetApp 8.2 (7-Mode and Clustered Mode) and Dell FluidFS storage systems, as well as Microsoft SQL Server 2014

.
Integration with Enterprise Reporter

– Enables Enterprise Reporter customers to

get user-centric views to manage permissions to files, folders and shares

within SXP

console.
Scheduled

service password changes –

Quickly schedules tasks to automate password changes for service logon accounts across the enterprise.
Interface

enhancement –

Improves user experience with Dell branding for consistency across components and

solutions.
But don't take our word for it... Download a free trial today!