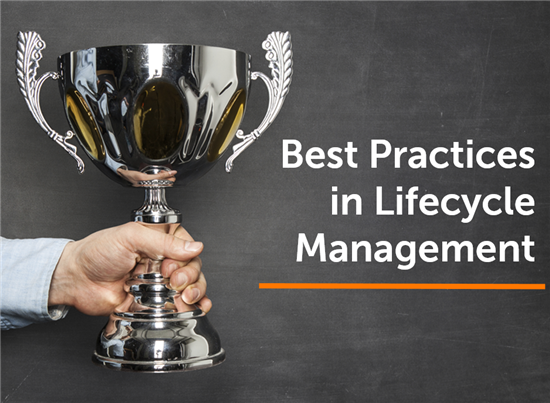 As your IT environment becomes more diverse and complex, systems management becomes more challenging — and more critical. In particular, mobility and the Internet of Things have dramatically increased the number and types of devices connecting to your corporate network — devices that you must now track, manage and secure. Manual approaches and a hodgepodge of point solutions might have sufficed in the past, but now you are likely feeling the pressure to find a comprehensive systems management solution, one that is both easy to use and addresses all of your concerns.
The Breadth of Systems Lifecycle Management
What "concerns" are we talking about? Well, the systems management lifecycle spans all the processes you need to get the most productivity and efficiency out of your IT spend. These processes have evolved and expanded over time to include:
Asset management — Discovering and managing hardware and software assets
Software distribution and provisioning — Installing software from a central location
Security and patch management — Automating processes to keep endpoints up to date and secure
Configuration compliance and remediation — Centralizing systems configuration and enforcement of policies
Process automation – Automating and integrating IT management processes
Service desk — Providing a service desk that is integrated with asset management and reporting
Reporting — Comprehensive and customizable reporting and alerts
You need a solution that addresses all of these areas if you want to sleep soundly at night without worrying about compliance violations, security vulnerabilities, managing the ever-increasing number of mobile and non-computer devices on your network, or lost productivity due to system performance issues.
Choosing the Right Tool to Help
Whether you're looking to consolidate your existing point solutions or you're in the market to upgrade your current systems lifecycle management platform, you'll find a valuable resource in "Best Practices in Lifecycle Management" from Enterprise Management Associates, Inc. (EMA). This paper presents the results from EMA's extensive research into four of the most popular lifecycle management solutions:
Dell KACE K1000 Systems Management and K2000 Systems Deployment appliances
LANDESK Management Suite 9.6 SP1
Microsoft System Center 2012 R2 Configuration Manager (SCCM)
Symantec Altiris Client Management Suite (CMS) 7.5 SP1
Far more than a checklist of features, this insightful paper will give you a clear picture of how to shop for lifecycle management products. You'll see how to zero in on the features and capabilities that you need to effectively manage the desktops, laptops, servers and non-computer devices in your organization.
Download the White Paper
Get your free copy of "Best Practices in Lifecycle Management" and benefit from EMA's detailed comparison of more than 45 features across seven key areas of lifecycle management.