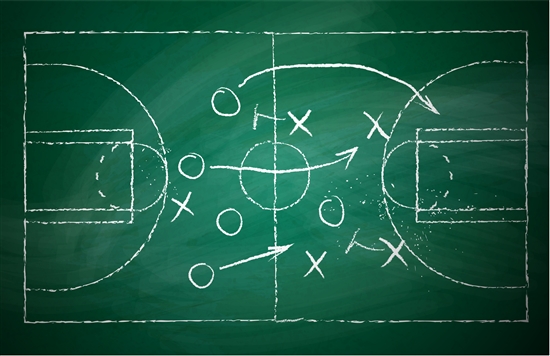 Men's college basketball in March is one thing – the breaks, the dunks, the three-pointers, the dream shakes. But the gradual whittling away of teams in the tournament is the real thing. That's what makes it all so much fun. You fill out your brackets then watch the herd get thinned out to 16 teams, then eight, then four, then two, then the winner.
It's just like whittling down a field of virtualization management vendors to determine the tool that best suits your needs, isn't it? Narrowing down your options to select a product for monitoring the performance of your virtual infrastructure beats drive, draw and dish any day.
And have we got a playbook for you: "The Definitive Guide to Virtualization Management Software." My previous post described Part 1 of the e-book – your virtualization management vision – and in this post I'll give you a peek inside Part 2, How to select a virtualization management solution and vendor.
How to select a virtualization management solution — and a good vendor
In your process of elimination, you'll likely find yourself saying, "I like the product, but I don't want to have to deal with the vendor," and "They're the easiest vendor to work with, but their product is a non-starter." That's why shopping for the solution and vetting the vendor are intertwined.
Discover as much as you can about your prospective vendor:
History of the company and how long it has been in business
Its unique value proposition
Its financial trends and outlook
Where its virtualization management product comes from (developed in house, purchased, acquiired, outsourced)
Budget and headcount for R&D
Current customers and how they use the product
Seem nosy? Remember that it's your money.
Once you've narrowed down your list of preferred vendors, you can begin to compare their virtualization management products. Unfortunately, you cannot always get to an apples-to-apples comparison; two products may have features with the same name (like "integration with Exchange" and "change tracking"), but that doesn't mean that they perform alike or meet your needs in the same way.
Keep these points in mind:
It's best to avoid brand new products because they won't have a mature feature set to give you the most for your money.
Over time, you'll want to control the growth of data coming from the product without losing long-term trending information.
The future is heterogeneous. Even if you aren't using multiple hypervisors today, you may well be tomorrow, and your chosen solution should be able to scale with you.
The licensing model is important not only for the price tag, but also for your return on investment.
A well-documented and supported API assures you of the option to add on to the product later.
You won't want to be chained to your PC all the time, so make sure you can use smartphones and tablets to monitor remotely.
E-book: The Definitive Guide to Virtualization Management Software
Have a look through Part 2 of our e-book, The Definitive Guide to Virtualization Management Software. You can download it at halftime, mute your television and start building out your checklist of requirements for vendors and products. While college basketball is thinning out its herd, you can thin yours out.