After attending Oracle Open World 2015, I walked away energized and smiling. This conference brings together portfolio-wide Oracle users to learn best practices and hear about product advances. As the product manager for Quest SharePlex, I was particularly interested in sessions around Oracle GoldenGate, our primary competitor.
Having arrived Saturday, I attended a few sessions, but really had my sights set on the opening session for GoldenGate, Product Update and Strategy. Chai Pydmukkala, product management leader for Golden Gate, opened with the latest features and direction then introduced a customer presentation from Andrew Yee, database architect from Ticketmaster. This was sure to be interesting because Ticketmaster was also a Dell SharePlex customer. . Right out of the gate, the presentations started with the slide below: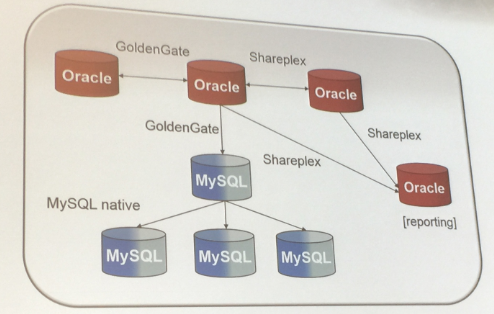 Now in this diagram, there are a total of 8 replication connections; SharePlex has 3, MySQL native has 3, and Oracle Golden Gate has 2. Now, technically speaking Oracle GoldenGate is capable of handling all 8 connections, but Ticketmaster decided to bring in other solutions including Dell SharePlex to handle 3 connections. Think about this for a minute. Up on the screen at Oracle Open World – in their opening session for GoldenGate – the customer presenting showed SharePlex picked over GoldenGate by a preference of 3 to 1. I would like to thank Andrew Yee as a SharePlex customer for showing this. Wow, have to say, loved seeing SharePlex highlighted like this. But, it didn't stop. The next slide up showed this: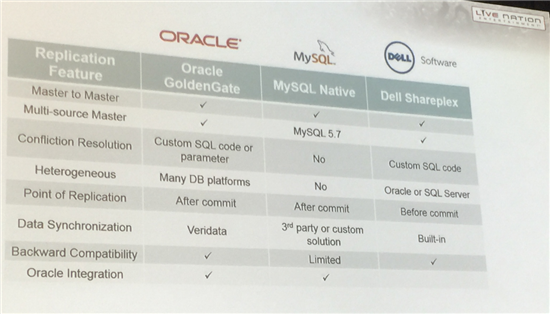 The first two, they rate Oracle GoldenGate and SharePlex equal.
Next it says customer SQL Code or parameter or customer SQL code. We have generic conflict resolution to parameterize in addition to Customer SQL code we are actually even there.
Now, Oracle GoldenGate supports more platforms than we do, but that's today. Our vision and approach with databases will remain different from Oracle's with respect to favoring databases or integration. Oracle introduced support for automatically managing cascading deletes with Oracle to Oracle replication, which SharePlex also does as well. Trouble is, Oracle GoldenGate's approach only works with Oracle whereas the Dell SharePlex design is database agnostic. Oracle GoldenGate will not have positive relationships with other database vendors as they do with the Oracle database developers and therefore, their approach only works with Oracle both technically and from a business perspective. Certainly MySQL can be made to but that's it. How about Postgres where EnterpriseDB's Postgres Plus Advanced Server (PPAS) provides SQL and PL/SQL compatibility with PL/pgSQL to ease your migration and more. They won't change the database to support Oracle GoldenGate. SharePlex is in beta with Oracle PPAS which will be available in SharePlex 8.6.3, currently scheduled for GA in early 2016. Look for announcements between Dell and EnterpriseDB.
As the session moved to Q&A, "Point of Replication" became a hot topic with audience – and a long-time favorite of mine (but that's for another blog).. Immediately members of the audience began asking the Oracle GoldenGate product manager when it would perform before commit point of replication also known as optimistic commit. I will write a separate blog around this topic but there was really a lot of buzz in the meeting.
I can't describe the excitement I felt for the presence Dell SharePlex had in this session. I quickly found Andrew Yee from Ticketmaster, and thanked him profusely for an outstanding presentation. Even though Oracle GoldenGate could have handled all the connections, the customer determined they needed Quest SharePlex despite the Oracle database instances. I made my way to the next session energized about what I just witnessed…and smiling. More to come on my Oracle Open World 2015 experience.