Quest (formerly Quest) is out in force at the front of the exhibit hall in booth 319. We've got a large conitingent here and have been meeting tons of old and new Sahrepoint friends and customers. Once again, the event is affirms the size and strength of this copmmunity - something we've always been proud to support.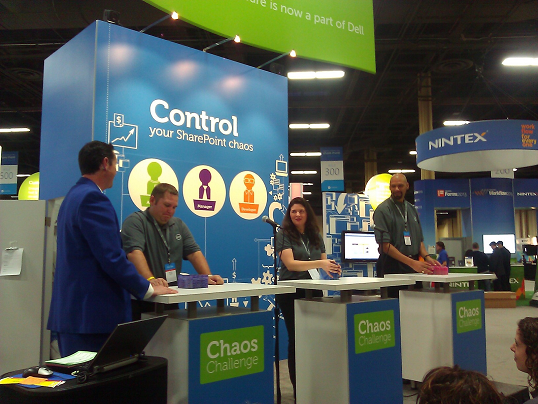 I just posted a lengthy summary of the day one keynote address at the Microsoft SharePoint Conference this week in Las Vegas over on my personal blog. Jared Spataro, Jeff Teper and the rest of the Redmond gang made a strong case for SharePoint's acceleration into its second decade.
In general, there were a lot of small enhancements included in the keynote, and a few new product enhancements for Yammer and mobility. In my opinion, the Yammer integration roadmap remains less than perfectly focused. The Office 365 focus is great but exaggerates the role of "choice" for moving existing SharePoint on premises installations to the cloud. The app model
A summary:
Microsoft affirmed its commitment to the community
Social remains a major investment area with Yammer extensions and integration underway, although the roadmap remains in-progress
Numerous usability enhancements large and small
A new application model that makes it simple to develop and integrate cloud hosted applications that integrate with minimal server footprint
Strong preference for Office 365 based deployments moving forward.
Hope to see you on my 2013 Upgrade Session Wednesday morning at 9am in Islander CH. Enjoy the week!