Couple things I wanted to share with everyone today.
First, Quest Site Administrator for SharePoint 4.2 just went live and is now available for download. The new features in this release are naturally following the evolution we see in SharePoint administration:
New reports that show key metrics for all site collections in selected web application or SharePoint farm, with a drill down to all sites in a site collection. The details displayed in this report include: site collection administrators; site size and number of subsites; number of users and page views in the past 30 days; last content access and modification dates; etc.
Advanced permissions management actions right within the context of site permissions report and users permissions report in Site Administrator Information Portal. This means you can review the site's effective permissions and make changes right within the same view.
Full support for host named site collections for both SharePoint 2007 and SharePoint 2010.
And - my favorite - all Information Portal reports are now automatically available to the business users with Full Control permissions over a site in SharePoint. Site Administrator recognizes these users' permissions in SharePoint and gives them security trimmed access to reports over the sites and subsites they manage. And as always, users with site collection administrator privileges continue to enjoy access to Site Administrator reports and management actions for the site collections they own.
The other thing I was excited to realize today is how cool Site Administrator Information Portal fits the iPad screen. Yes, you're right - it is a web UI, so why not? However, think of the way Information Portal recognizes site owners and gives them advanced reports and management capabilities - and then take a look. Isn't it beautiful, bringing SharePoint site reporting and administration right to the fingertips of the site owners? Literally!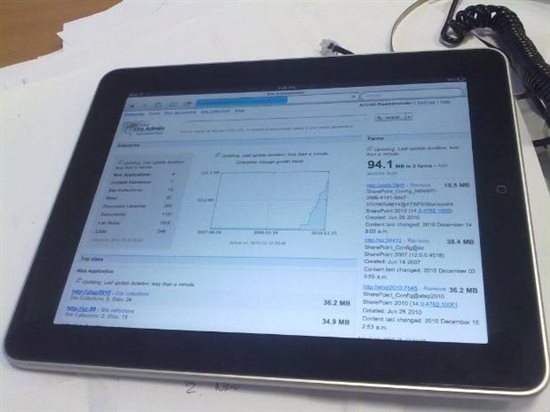 Enterprise Overview report. Apologies for the picture quality :-)
Sites in a site collection. Site collection owners can run this report on their desktop or laptop or even iPad - no need to involve IT!
What do you think? Let us know here in the comments or in the community forums!
Ilia Sotnikov
Product Manager @QuestSharePoint