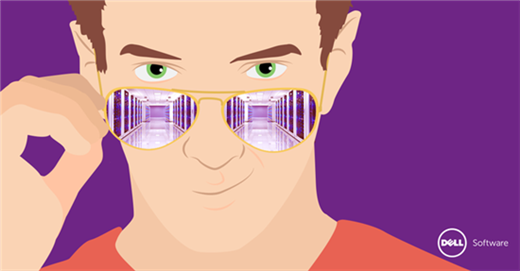 I've witnessed many sales pitches over the years across varying industries and most seem to follow a similar pattern: set the stage, find the pain, propose a solution (i.e. your brand new shiny widget), and ask for the business. The datacenter is becoming increasingly more complex, and we're starting to see the need for a higher degree of knowledge among IT staff. Often times, our customers don't need a sermon on how great our products are. They first need to understand how and why current industry trends are affecting their ability to meet and exceed business expectations in their ever-evolving IT role.
Now, I hope you don't hear what I'm not saying. Our customer base is full of men and women who are brilliant and would be just fine without guidance from their IT vendors. Similarly, there's nothing wrong with a good product-centric sales pitch. However, I believe we as vendors could be doing a better job at putting product-agnostic, educational content into the marketplace. Everyone puts a spin on their products (Trust me, I'm in marketing), but the real value is meeting our customers where they're at and giving them the facts about data protection to help them make an informed decision.
The era of now is changing the game for IT shops
Expectations are changing. The industry is seeing massive data growth, coupled with end users desiring faster service, constant connectivity, and assured protection. In that light, I thought I'd share the four causes of misalignment between traditional IT and application owners and users.
Lack of business-defined recovery SLAs
Different understandings of SLA commitments
Lack of tailored recovery strategies based on IT service criticality
Lack of testing of IT continuity plans
A business disaster recovery plan that aligns business expectations with IT capability is critically important to a firm as a whole. The ironic part of this misalignment is that I've seen both parties assume everything is being taken care of on the other side of the fence. IT often underestimates the expectations of the application owners and users. Meanwhile, those same users often believe (and expect) there are magical IT wizards in the datacenter who can restore services in a matter of seconds.
Here are a few numbers out of a recent Forrester study that highlight what I'm talking about:
71% of data is considered mission or business critical
19% of firms are using "modern" backup and DR.
27% of firms are very confident they can fully restore
Become a trusted IT professional
I believe it's invaluable when IT pros are able to clearly articulate the value of a solid disaster recovery plan to both their peers and leadership team. I also recognize that many in the industry already have a plan in place that has been clearly defined and agreed upon. However, my experience in sales has shown me those companies are the exception, not the rule.
One of the steps in building a disaster recovery plan includes calculating the cost of downtime. This can be a good place to start when we begin weighing which applications are mission/business critical. If two out of five IT staffers don't have any interaction with the business units they support, how will they ever understand the value of the applications they maintain?
For a more comprehensive view of this topic, click the link below to download the e-book titled, "Downtime Costs How Much? Calculating the Business Value of Disaster Recovery."