Patch management. Everyone knows they have to do it, yet they all hate it, and few do it right. There's no argument that effective patch management is imperative for the security of your organization by bringing intrusion points – from the operating system to the application layer – up to date with the latest security patches. Patching can aslo improve application stability and performance and keep you in compliance with regulations such as HIPAA and PCI.
The reality is that effective patching is hard. It is hard to be sure that you have every device and every application patched. Miss one system or one application and your network is open to attack. And, you also have to worry about the end users, who justifiably do not want their work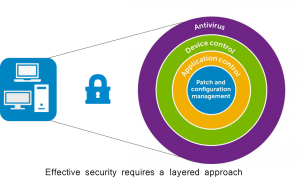 interrupted or lost due to surprise reboots.
Many organizations deploy an ad hoc process to patching – one solution for Microsoft OS and applications, another solution for MAC OS, and others for third party applications, which makes things more complicated and difficult to manage. You can simply patch management by deploying a single effective solutions and following some simple tips:
Stay informed: Inventory all your devices and scan and assess them to determine your patching needs
Simplify the process: Rely on a single source/solution for your patches, make sure you can undo a patch release and used a phased approach to patch deployment
Make it easier for you and your end users: Use a patching solution that supports a good user experience – effective communication, power over when patches deploy and systems reboot – and tools that make it easy for you to administer the process
Organize and right size: Choose the solution that fits your organizations needs and budget and that helps you categorize and deploy patches based on criteria that is right for you
You can find out more about simplifying patch management by accessing our webinar, Simple, Effective Patch Management: From Dilemma to Done Deed. Lear more about our systems management appliance, which provides an ideal patch management solution, KACE K1000, by going to our website.