Back in March of this year, we rolled out a new way of looking at end-user transactional data in the Service Operations Console. In my blog announcing that, I alluded to the fact that there were more UI changes coming to the Service Operations Console. I'm excited to finally get a chance to share those. There is far too much to include in a single blog post, so I'm going to break this information up thematically into two separate posts.
The Basics:
In Foglight 5.6.4, we have released a new cartridge called the Cartridge for Application Operations. This cartridge will work on a 5.6.3 or 5.6.4 Foglight Management Server. It does not need separate licensing—it is included with a Management Server license. It bundles together a number of features (including the Cartridge for Dependency Mapping) designed to simplify the out-of-the-box Application Performance Monitoring experience for Foglight users. The two largest functional areas of change are:
Service Operations Console views and workflows to enable repeatable incident management workflows out-of-the-box. This is what I am going to cover in today's post.
Service building and maintenance activities, including a workflow driven service builder, which I will cover in a later post.
Service Operations Console (5.6.4) Overview
Foglight has long delivered market leading functionality across all functions/dimensions of APM. The 5.6.4 release is focused on delivering simplicity in APM. We now provide an out-of-the-box comprehensive APM dashboard inside the Service Operations Console. It highlights the intersection of transactions, platforms (like database, java, etc.) and infrastructure (like physical hosts, virtual hosts, virtualization servers, etc.) to provide end-to-end views and a repeatable workflow for application triage. This enables application support engineers to get all the data they need, from one central UI, without having to be a domain expert and use domain focused dashboards.
When you install the Cartridge for Application Operations into a Foglight Management Server (5.6.3 or 5.6.4) the behavior of the Service Operations Console is changed. Specifically, you will find:
A new End User tab
The Service Dependencies tab will be replaced with a new Dependencies tab.
The Advanced Tier Visualization tab will be removed. Any manual relationships defined by the advanced tier relationships will be converted to manual dependencies in the dependency model, and will be visible on the dependencies tab.
Drill paths on the tiers in the table section of the Service Operations Console are aligned to the drill paths of on the dependencies tab.
Application operations/support will use this new and improved Service Operations Console to:
Identify if there are application issues.
Prioritize the issues based on the impact to the customer base.
Isolate the source of the problem for handoff to a domain specialist. If they have domain level skills, contextual drills will take them to deeper diagnostic dashboards at the domain level for advanced root cause analysis.
The Service Operations Console End User Tab:
The End User tab on the Service operations console is designed to show real (tiles with the "person" icon) and synthetic (tiles with the "robots" icon) user transactional data, side by side, in order to quickly determine the severity and impact of application issues on the user base. There are a variety of controls for organizing tiles and there are drills on each type of user data. The real-user tiles provide the ability to associate FxV content filters (Trace Analysis) to isolate individual sessions are experiencing any criteria that is interesting to you (long running hits, error hits, etc.). This includes the ability to drill directly to those sessions for detailed analysis, including "Tivo-esque" playback of the user session, right from the Service Operations Console UI.
Below is a screenshot of the End User tab: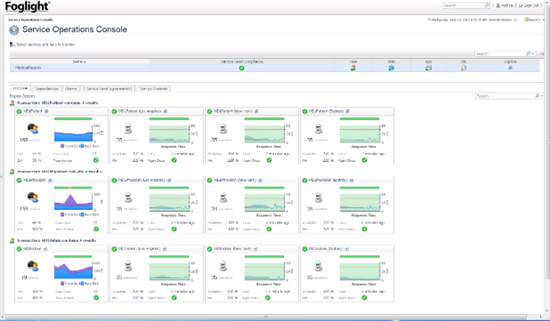 The Service Operations Console Dependencies Tab:
The Dependencies tab on the Service Operations Console is designed to facilitate troubleshooting for application operations/support by providing multiple perspectives and contextual drill paths on your application run-time architecture. There is too much detail to communicate everything about this here, but generally speaking:
There are 3 top level views
Services: Summarized services and dependencies
Application Infrastructure: Explodes the services view to show the infrastructure and dependencies between them, but maintains a service based organizations. Application components (like database servers, java servers, etc.) are visible by hovering on hosts or drilling on the service tier.
Virtual Environment: Shows the virtual hosts supporting the application, but organizes them according to the virtualization server on which they are running in order to identify virtualization related conflicts.
Each view provides drill paths that expose tile based views showing the contents and key data about elements in your application topology. These data are surfaced from our market leading deep-dive collectors, but are presented in a way that is meant to make it easy for non-domain experts to assess and interpret.
Each tile provides a contextual drill into the deep domain dashboard for application operations/support team members who are capable of working at the domain level.
Below is a screenshot of the Application Infrastructure perspective, with a drill into the application tier to show the tile based perspective.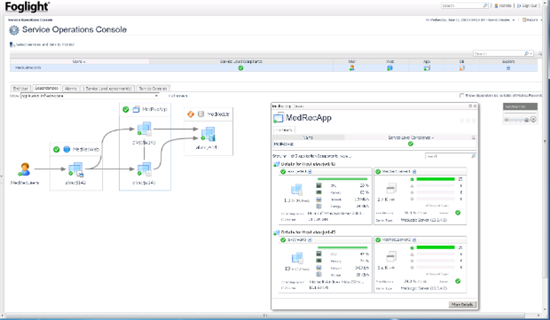 There are a few additional notes worth mentioning here:
The dependencies view works best if you have configured the dependency collectors, but it is not necessary. You can create manual dependencies, if you wish, instead of letting the system do it.
Whenever you have a virtual server (Hyper-V or VMWare), we automatically detect the relationship between the virtual host and the virtual server. Any host drill brings you to a perspective that provides easy access to the state and key metrics of the virtualization server for identifying virtualization based problems.
Documentation on these changes can be found here on edocs: (https://www.quest.com/).
Summary:
In conjunctions with developing these Uis, we have been updating and improving our development and demo lab environments. Out of this work has come a new set of demos that allow our pre-sales (and sometimes PM) team members to show how the Service Operations Console works to support a common workflow for supporting application triage and root-cause diagnostics. I have personally demonstrated this UI to dozens of internal resources, partners, and customers over the past few months, and have had enthusiastic response to them. While I cannot do 100's of demonstrations, I'm more than happy to do a handful of individual sessions for customers, or if demand is sufficient, run a webcast for existing customers. Please reach out to me at richard.schiller@quest.com with a subject line of "Requesting a Demo of 5.6.4 Service Operations Console", and I'll follow up with you.