Quest just released Migration Suite for SharePoint 4.5—you can all download the new version here.
This release includes many new features and enhancements that address customer feedback, add support for specific SharePoint configurations and migration scenarios, and improve usability. Check out what's new in 4.5.
Extended Workflow Migration in SharePoint 2013
Migrate legacy out-of-the-box and SharePoint Designer workflows to SharePoint 2013. You can copy lists and reusable and site workflows from SharePoint 2007 or 2010 to SharePoint 2013 and SharePoint Online. Once on the new version, you can copy SharePoint 2013 workflows easily between SharePoint 2013 locations.
Simplified Office 365 Migration
Excited about the new version of Office 365? Migration Suite for SharePoint 4.5 makes migrations to SharePoint Online fast and easy.
Use the site collection discovery tool to quickly connect to site collections in your Office 365 subscription
Provision new site collections in Office 365 on the fly during migration
Connect directly to certain federated configurations of Office 365 to remove the requirement for the browser connection technique
Improved Site Compare
The Site Compare feature gets even better with version 4.5. Migration Suite for SharePoint enables you to compare documents based on their Modified time, and new color coding helps you easily identify which location has an older version of the document. You can also optionally identify differences in permissions of SharePoint items. Before you begin your project, you can also run a full comparison of large site collections in the background to help verify migration results upon completion. Site Compare generates a snapshot of the differences between sites (including sub-sites), and that snapshot can be used post-migration to synchronize the identified differences.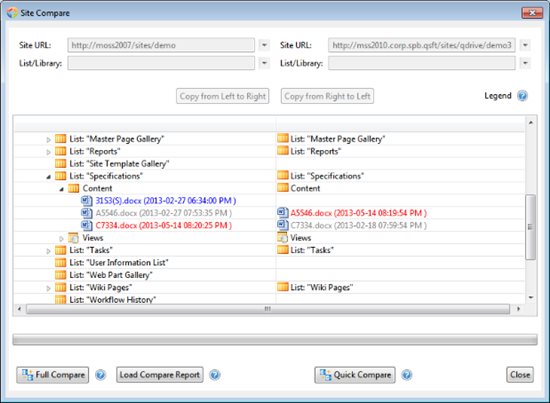 There's more in Migration Suite for SharePoint 4.5. Check out the attached What's New document for the complete listing.
And don't forget to download Migration Suite for SharePoint 4.5 today.
Quest-Migration-Suite-for-SharePoint-_5F00_4.5_5F00_WhatsNew.pdf