Recently, I was privileged to participate in a CMSWire sponsored TweetJam, along with 10-20 other SharePoint community members. The hour covered six major areas, detailed below. (Also below - an explanation of the title).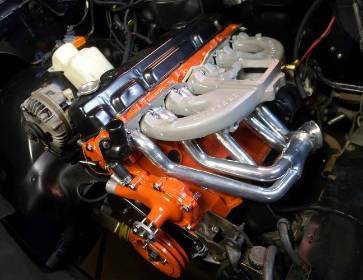 The Dodge Slant 6 engine (source: Wikipedia.org)
What do you think is SharePoint 2010's best feature and why?
The overwhelming consensus (which I share for some reason) was the Managed Metadata service. It allows central organization of classification (taxonomy) and allows users to control their own tags (folksonomy and keywords).
What factors have been the most important for adoption of platforms like SharePoint?
Not surprisingly, there were a lot of answers here. SharePoint's high capacity and low cost were cited. But I went with an established governance program as a prerequisite for good user adoption. Without partnership about common business goals, it's hard to assure adoption. Also, food based applications (where can I get free food today, etc.) really seem to help.
Is the slow rate of SharePoint releases a problem for Microsoft? What about customization of versions, is this a concern?
Not a problem for Microsoft – they sell at a prodigious clip. The problem is for us folks who implement SharePoint. The consumer world moves ahead more quickly on platforms like Facebook or LinkedIn. This creates a user expectation gap, since those systems blaze a hard-to-match-quickly trail. You're just never going to see new features added to the base product as quickly or easily as users expect.
Name 3 steps required for a successful SharePoint governance strategy.
Ding! That's the 1000th time I've heard that question this year. My answer was simple:
1. People (roles)
2. Process
3. Partners (business-IT, IT-expertise)
But there were too many good answer to fit them all into 140 characters. Stop, look, listen seemed to be a good way to summarize the requirement to assess your current situation and figure out common goals by listening to users and business partners. There's an open debate on whether or not you can govern things you can't enforce. I believe that coaching and influence go a long way to addressing user behavior in ways that hard to anticipate or perfectly control.
What challenges do you see for SharePoint service providers?
SharePoint SPs will need to distinguish themselves on the top and bottom end – either super low-cost volume hosting or, more likely, distinct high end hosting – dedicated servers, admin access and customization, and/or industry and technical vertical solutions. (SharePoint for medical offices, SharePoint integrated to other login cloud systems like SalesForce, etc.)
What excites you most about SharePoint 2013?
There were a lot of ideas here. Look, there are lots of things coming and we've just started to figure out the best way use them in the real world. I think the social improvement are the most exciting new feature. Next, I'd look at the new app model – the ability to add applications form on online marketplace, hosted in the cloud, with no custom code added to your servers is going to be huge. But it's going to take 12-18 months or the market to get there.
Thanks again to CMSWire for inviting us to participate. What do you think? Join the community discussion and let us know!
(Explanation: There were six questions. Slant Six and the Jumpstarts was a novelty music act.)