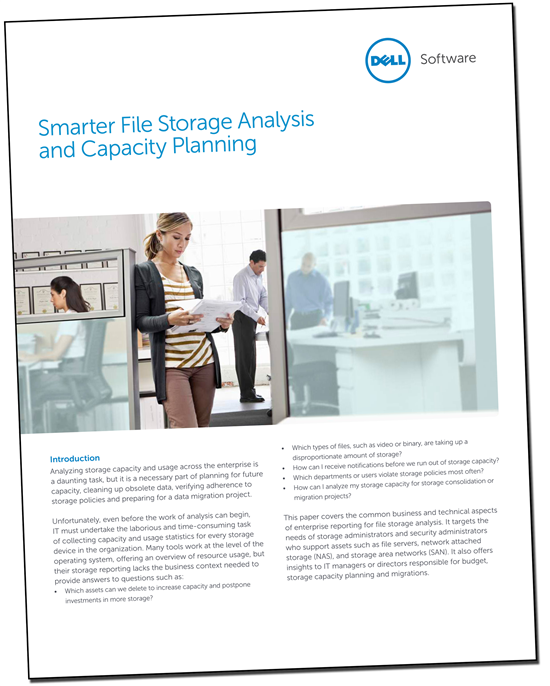 Analyzing storage capacity and usage across the enterprise is a daunting task, but it is a necessary part of planning for future capacity, cleaning up obsolete data, verifying adherence to storage policies and preparing for a data migration project.
Unfortunately, even before the work of analysis can begin, IT must undertake the laborious and time-consuming task of collecting capacity and usage statistics for every storage device in the organization. Many tools work at the level of the operating system, offering an overview of resource usage, but their storage reporting lacks the business context needed to provide answers to questions such as:
Which assets can we delete to increase capacity and postpone investments in more storage?
Which types of files, such as video or binary, are taking up a disproportionate amount of storage?
How can I receive notifications before we run out of storage capacity?
Which departments or users violate storage policies most often?
How can I analyze my storage capacity for storage consolidation or migration projects?
This paper covers the common business and technical aspects of enterprise reporting for file storage analysis. It targets the needs of storage administrators and security administrators who support assets such as file servers, network attached storage (NAS), and storage area networks (SAN).
It also offers insights to IT managers or directors responsible for budget, storage capacity planning and migrations. You'll also learn about a new, automated solution that simplifies file storage analysis and capacity planning reporting.