As you probably know there is a new version of Migration Manager for SharePoint in the works. So we'd like to give you a quick overview of the new features coming out in version 2.0 in July. This is going to be a two installment series. The one you are reading now covers new migration features for SharePoint 2007 environments. Next one will provide a sneak peek of enhancements to SharePoint 2003-2007 content migration functionality.
Reorganize/Consolidate/Migrate SharePoint 2007 Sites
Migration Manager 2.0 provides a solid migration project management framework on top of Microsoft Content Migration API and the stsadm utility that automates and streamlines content migration for SharePoint 2007 (both MOSS and WSS 3.0) deployments.
Sites structure, content, metadata, security permissions and look and feel are retained for the migrated sites. There are some items that are not currently preserved due to the limitations underlying Microsoft technology (e.g. user alerts, workflow state and tasks, check-out state).
This new capabilities are based on the work that went into Reorg Wizard beta, but these are getting quite a few important enhancements in Migration Manager 2.0:
Site migration across farm boundaries - you will be able to consolidate SharePoint sites from scattered SharePoint deployments to a central SharePoint server farm or copy sites and content between staging/development and production SharePoint environments. All cross-wire data transfers are automated by Migration Manager.
Scheduled operations - Migration Manager 2.0 allows you to complete resource-intensive migrations during off-peak hours
Remote migration console - you no longer need to remote into your SharePoint server console to do site reorganizations. Connect to the Migration Manager web console from your browser instead. A single console can be used to manage migration jobs on every SharePoint farm: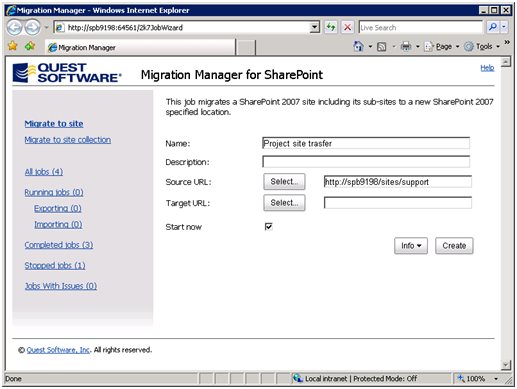 Multiple migration tasks - you can configure and monitor multiple migration tasks in Migration Manager simultaneously. Status-based task views make it easy to locate and track migration tasks:
Pre-migration and status reports - Migration Manager provides a pre-migration assessment of the site to be migrated, which includes how much content you are about to migrate and a migration time estimate. While the migration task is in progress, you can see live stats of the original and target sites: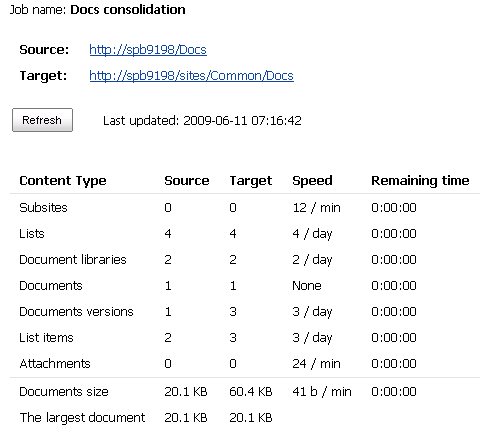 Features from the original Reorg Wizard are also included:
Move sites within a SharePoint farm, including moves across site collections and web applications
Promote subsites to new site collections
Move site collections including an option to select a specific content database
Live site search and URL validation
Stay tuned for the second installment on SharePoint 2003-2007 migration enhancements!