In the first part of this series I talked about the new features for SharePoint 2007 migration and restructuring in the upcoming Quest Migration Manager for SharePoint 2.0. It's now time to turn to the SharePoint 2003-2007 migrations and tell you what new capabilities we are rolling out.
SharePoint 2003-2007 Migrations
For those of you out there who are still on SharePoint 2003 and considering upgrade, Migration Manager 2.0 adds a whole pack of improvements to its SharePoint 2003-2007 content migration:
New web-based migration console - Migration Manager 2.0 provides a similar remote web console for SharePoint 2003 migrations. You can remotely configure, track and manage you SharePoint 2003-2007 migration tasks from your favorite browser.
Pre-migration assessment - allows you to see how much content of each type you have in your original SharePoint 2003 site and get an idea of how long it will take to migrate it to SharePoint 2007
Status reports - Migration Manager 2.0 delivers live status monitoring tools for your migration tasks. You can see the site content statistics side by side for you source and destination sites, as well as time-to-complete estimation based on the actual migration speed. The Agent Status report provides a detailed system health report, which includes Migration Manager components and dependencies: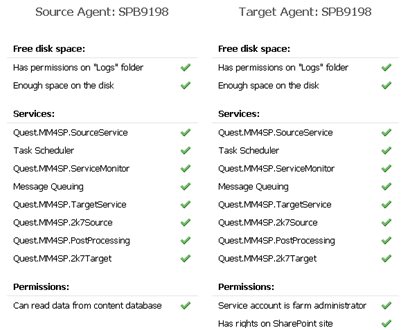 Enhanced Error Reporting - whenever an issue occurs in the course of migration, it is logged to database and a detailed error information can be looked up in the aggregated migration error report
Distributed Installation - in many cases SharePoint 2003 and 2007 environments are using separate administrative credentials and it is a daunting task to get a security account with admin-level permissions to both source and destination farms. With Migration Manager 2.0 you can deploy the tool to both environments and re-use existing administrative accounts for Migration Manager components.
Job Views - convenient views make it easy to locate and track migration tasks based on their state: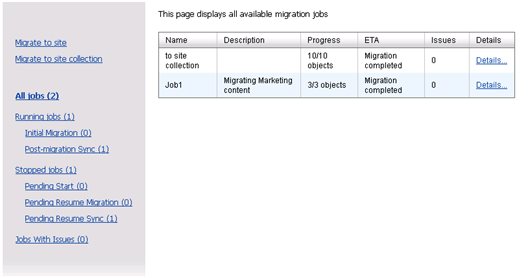 Web part page migration - the new version comes a web part page migration tool that allows to transfer web part configuration and layout from SharePoint 2003 site home pages to SharePoint 2007. The tool also recreates custom web part pages in migrated document libraries. 3rd party web parts are supported as long as they are available on the target SharePoint 2007 farm.
That's it for now!