The SharePoint 2012 conference is just around the corner, and boy I'm excited. At this year's conference there will be over 300 sessions, a sold out expo hall, and roughly 10,000 attendees. What's not to be excited about? The sunny Las Vegas venue alone is enough to make any fun loving person restless. To top it all off, Jon Bon Jovi and The Kings of Suburbia will be providing musical entertainment on Tuesday night. Needless to say there is a lot of amazing things to look forward too, and I haven't even mentioned SharePoint 2013. One thing I am probably the most excited about is talking with people about SharePoint social features. Without question one of the hottest subjects at the conference will be topics around the new social features available in SharePoint 2013. Microsoft has put a lot of effort into improving the social features. The acquisition of Yammer earlier this year further demonstrates the importance Microsoft is placing on enterprise level social capabilities. The social enhancements in SharePoint 2013 enable organizations to greatly improve the work experience for users. Despite the powerful additions to social features in SharePoint 2013, there is no out-of-the-box option to integrate external social media feeds within SharePoint. This is where I get really excited, as if my picture below doesn't give it away. I mean, look at me. I'm ridiculous.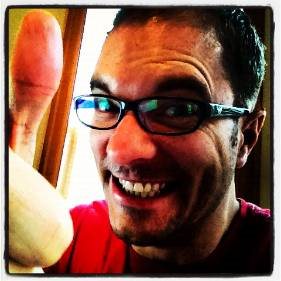 In response to this gap, @Dell has come to the rescue with a new product called Social Hub. Social Hub enables users to integrate external social media networks within SharePoint. Have you ever wanted to pull social content into your SharePoint site, but didn't have a tool or the development ability to do so? Perhaps you wanted to integrate media or industry information available on Facebook, Twitter or LinkedIn into your site, but there was no easy to way do it. With Social Hub, you will be able to do this with style and ease.
I have blogged about this new product before, but in the last 2 weeks, we have made some incredible UI improvements with many more to come. Can you tell I am excited about SharePoint social? Actually, I love the thought of being able to collaborate on work related documents, social content posted by other people I work with, and on community sites. When you integrate the ability to pull in external social content into SharePoint on top of all this, you will stay in SharePoint longer. Think about the impact that has on usability, adoption, and overall value. This is one fantastic way to maximize the SharePoint investment. You can only maximize the investment if people are using it, and using it often. When you enable users by giving them the tools and capabilities they want and need, you can effectively make them more productive. The faster you can connect with the people, groups, and information you need, not only will people become more productive, they might even enjoy it a bit more in the process.
Download Social Hub for FREE from the SharePoint App Store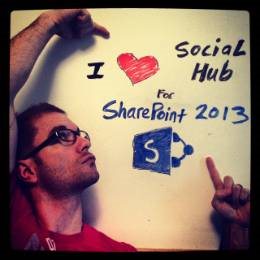 Here are a few screenshots from the latest Social Hub SharePoint App.