The secondary storage squeeze I posted about last time can make you feel like a lab rat in a maze, hitting one dead end after another as you try to back up more and more user data every month.
You're not allowed to lose data, but you're not allowed to run out of room, either.
Users want instant access to their backups, but primary storage is expensive.
You have to back everything up, but your backup window keeps shrinking.
You can protect more data in less space with deduplication, but the algorithms are resource-intensive.
Deduplication reduces data redundancy, but storing the data still takes network bandwidth.
Backup appliances offer deduplication, but not all enterprise applications use the same protocols as the appliances.
You can get protocol accelerators, but they're expensive and often proprietary.
And here, all you want to do is back up. What's an IT admin to do??
Deduplication at the source, with free protocol accelerators
We've watched as our customers have struggled with all the ifs, ands and buts of the secondary storage squeeze. That's why we've built the DR Series Disk Backup Appliances.
Appliances in the DR Series can connect to client and backup servers with the standard network protocols NFS and CIFS. To boost performance they also use technology called DR Rapid to accelerate data ingestion at the source of the backup stream by supporting Dell's own Rapid NFS, Rapid CIFS and Rapid Data Access (RDA), plus Veritas' OST. Using DR Rapid can dramatically reduce the time needed for deduplication and backup.
Also, we make those protocol accelerators available at no additional charge, so administrators can perform source-based deduplication on data from a wide variety of backup applications.
The diagram below shows how DR Rapid uses a protocol accelerator, running as a plugin, to deduplicate at the source of the backup stream (here, a Microsoft Exchange Server).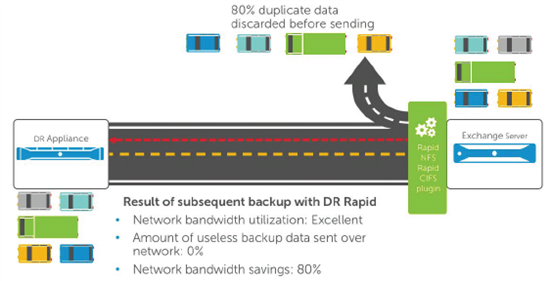 That results in full data protection in secondary storage without sending useless blocks and without unnecessary network utilization. DR Rapid handles data from the most common enterprise applications, with no additional charge for the protocol accelerators.
The Secondary Storage Squeeze: What's the Best Way to Handle It?
We've released a new e-book to introduce you to the Dell DR Series Disk Backup and Deduplication Appliances. It's called The Secondary Storage Squeeze: What's the Best Way to Handle It? (Spoiler alert: We tell you how to handle it.) Read it for more details on source-based deduplication and its benefits for storage space and network bandwidth.
You'll feel much better once you're out of the maze and can protect your organization's data reliably.