Hello and welcome! The below points are to quickly inform you as to what the following post is about.
Who: Current users of Stat and Jaspersoft iReport report writer.
What: Convert from Jaspersoft iReport to Jaspersoft Studio.
When: Support ending for Jaspersoft iReport on December 31, 2015.
Where: You can download the new Jaspersoft Studio Here.
Why: Jaspersoft has announced that the iReport client will be supported in maintenance-only mode until December 31, 2015. After this time users should be using Jaspersoft Studio.
The following is not intended to be the only resource for getting up to speed on the new reporting toolkit Stat will be working with.
In addition to this post, please see the new whitepaper entitled "Part_I: iReport_to_Jaspersoft_Studios" coming shortly.
(I will update this post with the proper link once it is available.)
Jaspersoft Studio Product Description: "The Jaspersoft Studio is an Eclipse-based report development tool for Jasper Reports."
"Jaspersoft Studio is the free, open source, eclipse-based report designer for JasperReports and JasperReports Server.
Create very sophisticated layouts containing charts, images, subreports, crosstabs and much more. Access your data through JDBC,
TableModels, JavaBeans, XML, Hibernate, CSV, and custom sources.
Then publish your reports as PDF, RTF, XML, XLS, CSV, HTML, XHTML, text, DOCX, or OpenOffice."
- Courtesy Jaspersoft
KEY STEPS TO TAKE:
There are several key steps to properly install Jaspersoft Studio:
Download: You will need to download and install the new Jaspersoft Studio. If you choose, uninstall the previous versions of iReport however
before doing so see the below section on gathering and saving your current iReport CLASSPATH Values.


Installation: Using the Jaspersoft Studio Windows Installer is the easiest way to install the application. There are other options listed below.


Connect & Configure: Once installed, set your work space and connect your application to the Stat Repository.


Open a Report: To test your installation, open a report that you previously worked with to test to installation and configuration of the application.
1: Download of Jaspersoft Studio:
You can download the Jaspersoft Studio product in several forms: The first, and recommended, way is to use the Windows Installer version found here.
This form provides the standard Windows installer most people are familiar with.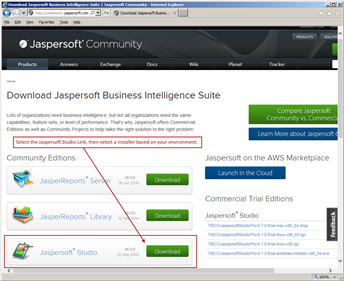 The second way is to download a zip containing all of the files with no windows installer here.
You would explode the zip file to the location you want to run the executable from.
2: Installation of Jaspersoft Studio:
NOTE: Do Not Uninstall Jaspersoft iReport first. You may need values from the previous installation.

Follow the onscreen prompts to install the Studio product in a location of your choice: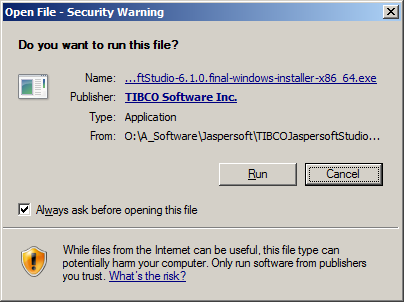 3: Connect & Configuration of Jaspersoft Studio (Oracle Only):
Since I only have access to my own environment, which is on Oracle, I can only provide with certainty the configuration of Jaspersoft Studio.
When installed you will see a new icon on the desktop: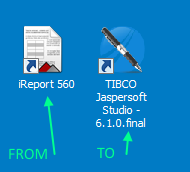 Launch Jaspersoft Studio. The first time you launch the application it will request that you select a 'Workspace'. A Workspace is a local directory on your
machine or network where you can store reports that are in development. This should be a private space while you work on your reports.
This should not be the Stat Central Agent machine or location.
Connect Jaspersoft Studio to your Stat Repository:
First thing is to connect to the STAT Repository using the "Create Data Adapter" Wizard.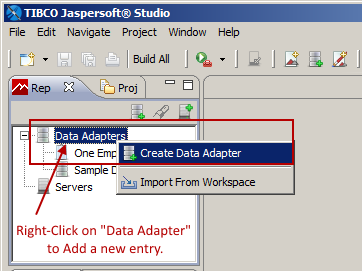 Create a New Data Adapter:
A Data Adapter is simply a Database connection. This would typically be your Stat Repository however you may add other data sources as well.
The following steps are the fastest way to add a new Data Adapter: For Oracle, select the "Database JDBC Connection".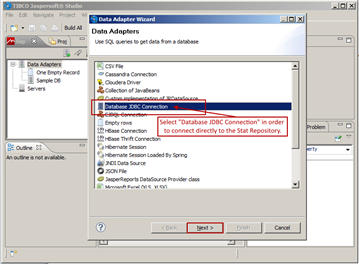 Enter a unique name for your new Data Adapter. Replace/Enter your Stat Repository Port Number and Stat Repository DB Name.
On the next screen, select the "Driver Classpath" tab on the lower right portion. Select the "Add" Button to add in your Oracle JDBC Jar files.
If you are not sure where these files reside – Compare them to your current iReport settings.
Once added, select the "Test" button on the lower left portion of the screen to test your connection.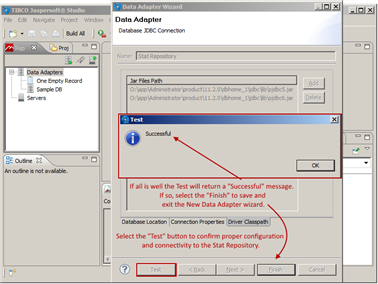 4: Open a Report:
You may see warnings in the form of a yellow triangle Icon. Place the mouse over the icon to see the warning with suggestion on how to correct the warning.
If you get error about "JavaClassNotFound"; go to previous iReport settings. Load the iReport Application: Go to Tools > Options > iReport Tab >
Classpath Tab > Note Location of Oracle JAR Files and Add to new install of Studio.
At this point I will not rewrite the Jaspersoft Studio documentation. See Appendix A Below: Resources for Learning.
We will discuss Jaspersoft Studio reports in more detail, as well as creating new ones, in the next blog entry on Stat Reporting Tools.
Thanks for taking the time to read this blog and I hope you found it informative.
Respectfully,
William R. Hart
Solutions Architect
Dell | Pre-Sales, Quest Software, Inc
Office +1 727 787 7374
Appendix A: Resources for Learning:
Below are several links which will bring you to the "Getting Started" and "Tutorials" sections of the Jaspersoft website.
These locations are full of documentation to support you getting up to speed as quickly as possible.
See "Getting Started"
See "Tutorials"