StatSoft has been a part of Dell for several months, and this is a good opportunity to gauge the fit.
If you've followed Statistica, you'll be glad to know that we've retained the Statistica brand, and we're in Quest's Information Management portfolio under Business Intelligence (BI), alongside Toad BI Suite, Boomi and Kitenga.
If you're not yet familiar with Statistica, I'll explain why that's such a good place for us to be.
Data mining, visualization and predictive analytics
Once you've collected enough data, you'll want to do three things with it: mine it, visualize it and use it to predict the future. Advanced analytic tools are in use across all industries and business functions. Advanced analytics allow you to:
Identify new customers and sales opportunities
Retain your best customers
Forecast trends and industry shifts
Explore what-if scenarios
Detect fraud and mitigate business risks
Statistica is known for enabling its customers to find patterns in huge amounts of data and make decisions based on those patterns. As Gregory Piatetsky of the KDnuggets site pointed out, Statistica rounds out Dell's portfolio of information management tools, as depicted in the image below.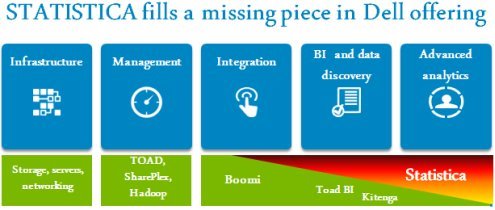 Big data today will be normal data tomorrow
As a part of the Information Management product portfolio, Statistica gives Dell competitive advantages in emerging areas of advanced analytics. Thomas Hill, Ph.D., executive director of analytics for Statistica, talked about several of those areas in a KDnuggets interview:
What we think of as big data today will be normal data tomorrow, and analyzing that much data will become routine. In fact, in sectors such as manufacturing, it already is routine.
Data mining and predictive modeling algorithms contribute to better products – including semiconductors, solar panels and medical devices – made at lower cost with less scrap and less impact on the environment.
In highly regulated industries like pharmaceuticals, the market rewards products that support privacy in personal information, including transparency of processes, documentation of decisions and assignment of responsibilities through approval processes. These features move the product landscape toward analytics, governance of data and the application of results in areas of personal importance, such as credit worthiness and health care.
A huge portion of useful data no longer comes in structured, row-and-column format. Unstructured, high-velocity, continuous data streams are becoming increasingly common. The data community is still refining particular analytics and analytic workflows that will grow in importance for applications like automated dynamic learning and forecasting, identification of optimal steady states and optimization of system robustness.
That's the big picture for big data as Statistica continues growing inside Dell. Find out more about Quest Statistica.
###