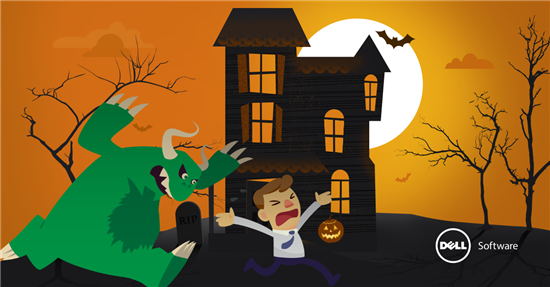 Halloween is upon us, but horror films and terrifying costumes aren't the only things creating fear. If you're using an 800-pound monster of an analytics solution, watching licensing costs spiral out of control and productivity drain, your office may very well feel like its own little shop of horrors.
But if the thought of the process of migrating to a new analytics platform is just as frightening as sticking with the scary status quo, take heart. Because as we recently learned for ourselves, analytics migrations can be far less of a nightmare than you might imagine.
Things that go bump in the night
In my last post, I talked about how scary change can be for the people in your organization – which makes a platform migration a huge, frightening project. The process itself can be just as, if not more, of a nightmare. Of course, the actual migration process is not just about replacing software; there are a lot of things that "go bump in the night" for which you might not be prepared. We encountered:
Resource constraints
Inefficient practices
Over-dependencies on the legacy platform
But take it from us, with some careful planning and a little creativity, you can successfully make the switch. We did it, migrating hundreds of our employees to a new analytics solution in just six months, and now we want to help you.
Calming everyone's fears
To ease the transition, we began by running the old legacy system and new platform in parallel. This prevented shock and gave users a little time to learn how they could replicate, and even enhance, the functionality they were used to ― all while eliminating the need for complex coding that tends to become unmanageable.
To further expedite and streamline the migration process, we put in place education and training, centers of excellence (CoEs), a user community and help desk resources. We even hosted a contest in which our analytics teams submitted business cases with real-world examples of how it was easier, more appropriate or more robust to deploy certain analytics processes using the new platform.
With the right organizational structure segmented into manageably sized user groups led by CoEs, we were able to ensure the new analytics platform supported users just as well as the old one, and then some. It didn't take long to see the results. Before we knew it, users went from being spooked by change to being inspired by it.
New e-book: The Great Analytics Migration
Don't let the fear of change keep you out in the cold. Warm up to a more affordable, intuitive and powerful approach to analytics this fall. Check out our e-book, Statistica: The Great Analytics Migration, to see how we switched platforms and find out why you don't have to be afraid of the migration process.