As a virtual admin, just when it seems that your Active Directory environment can't get any more complex, it does.
The variety of users and devices you support continues to grow.
The mix of physical and virtual resources – network, server and storage devices – means you have more to monitor.
Most of these resources are generating torrents of data for you to analyze.
Business process improvement calls for an agile IT environment, meaning new technologies and tools for you to manage.
And, of course, you're expected to respond as quickly and effectively as possible. How can you be confident that you're meeting performance requirements and that your Active Directory is healthy?
Lab review and video on Dell Foglight for Active Directory
ESG Labs recently performed hands-on evaluation and testing of Dell Foglight for Active Directory in a heterogeneous environment comprising physical and virtual server, network and storage resources. They wrote a lab review on their findings and followed it up with a video.
The Foglight architecture provides for "cartridges" that delivery different sets of IT functions. The Active Directory cartridge is virtualization-aware, so it can monitor and present data whether the domain controller is installed in a physical or virtual environment. When Foglight detects problems in the virtual environment, its extensive monitoring capabilities help pinpoint the problem at any level in the infrastructure. That eliminates finger-pointing and the claims of "My layer is running fine – must be someone else's" that tend to slow problem resolution and hamper user productivity.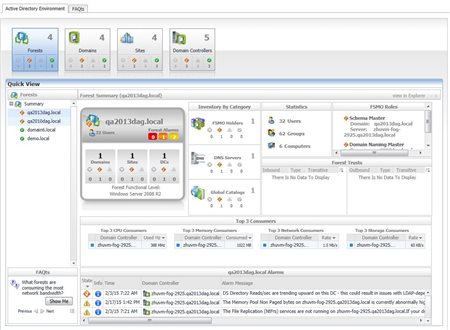 ESG walks you through the areas of Foglight for Active Directory uppermost in the minds of virtual administrators:
An end-to-end view of Active Directory dependencies and relationships, regardless of infrastructure vendor and domain
Diagnosis and resolution of performance problems in both physical and virtual Active Directory environments
Service Level Agreement reporting that shows how the Active Directory infrastructure is supporting the business