What do the 43rd President of the United States and I have in common? We like hanging out with healthcare technology professionals!! President George W. Bush gave the closing keynote at this year's Health Information and Management Systems Society (HIMSS) event in Chicago and Dell was one of the Corporate Sponsors. It's been a few years since my last visit to HIMSS and I have to say I was extremely impressed. The event is attended by over 42,000 people and seems to cover every square foot of the McCormick Center. Dell had an extremely strong presence at the program, hosting a charity in the booth, a dozen different Dell HCLS solution demo's and 3 live tweetups.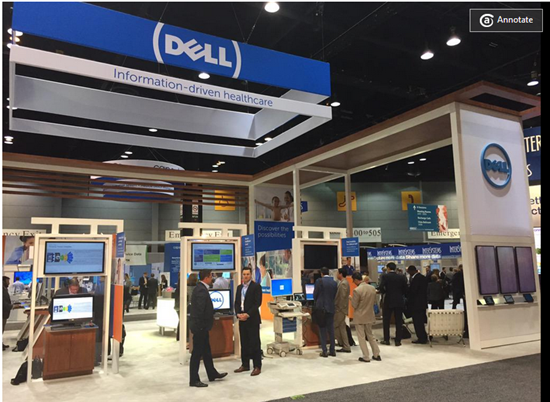 The technology themes were varied throughout the event and I was there to help lead a discussion on Population Health with Dell experts Dr. Gary Miner, Dr. Tom Hill and Dell's acting Chief Medical Officer Dr. Charlotte Hovet. We were also joined by Dr. Ken Yale, Vice President of Clinical Solutions, ActiveHealth Management. It's interesting to see where data is playing a role in driving more consistent and higher quality patient care. Population health obviously benefits from data driven insights. Technology's like advanced analytics are helping us move beyond an understanding of large populations and to focus in on more personalized patient care via diverse data and insightful analytics. As we are able to leverage more data and a greater variety of information on specific patients the ability to personalize care and apply a customized level of best practices will result in much better overall patient care.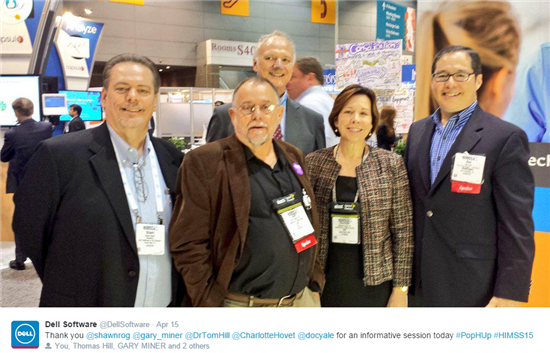 L-R Shawn Rogers, Dr. Gary Miner, Dr. Tom Hill, Dr. Charlotte Hovet and Dr. Ken Yale
The end result as advanced analytics drives patient care forward will be precision healthcare where care givers are able to execute specific regimes for each individual based on their specific needs, chemistry, DNA and other personalized markers and prerequisites. It's exciting to think that advanced analytics has the ability to enhance treatment and deliver personalized healthcare. Innovation isn't without its hurdles, connectivity to data and a new responsibility of patients to bring their own data into play will prove difficult. New trends will include device information on a patient's exercise and activities, diet, location, travel history and more. Advanced analytic platforms will factor many new data points into models in order to achieve the highly specific care plans required by precision medical treatments. Look for care givers to push back a bit as the culture of human knowledge and instincts collides with automated and model driven best practices. I believe that ultimately both voices need to be heard in order to supply the best possible care. Dr. Hovet made the point that even though analytic platforms will supply a path for treatment Dr's will still play a critical role in communicating, implementing and executing precision medical treatment. The days of the robot doctor are still way out in our future.
Having been in the data business for as long as I have, I found the themes at HIMSS to be exciting and full of promise for future and immediate innovations based on our ability to leverage greater amounts of data and a wider more dynamic range of information in order to add value to overall patient care. These are exciting data driven days for health care.