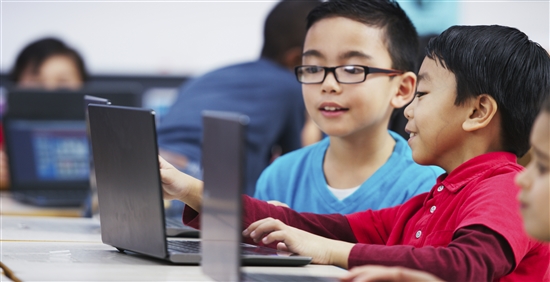 In the photo, it's easy to see the hands-on engagement, the 1:1 (one device per student) and the use of technology among students. Ain't technology in education grand?
Several other things, however, are not so easy to see: The time, effort, decisions, compromises and back and forth that put the technology into the hands of those students and made sure that it would pay off.
Think about some of the questions that come up:
Which classroom gets the Chromebooks first?
How will the students use them?
When will we train the teachers on building lessons around them?
How do we keep students focused on the lesson?
Shall we allow students to personalize their learning experience?
How do we keep the hardware and software up to date?
How do we evaluate progress and justify the investment in all this technology?
Changing Roles for Teachers, Students and IT Managers
Learning and technology seem as though they're made for each other, but there's a lot of give and take. IT knows more about what makes the bits flow quickly and securely, but teachers know more about what makes the classroom run smoothly and productively. IT pushes teachers to catch the technology wave, but teachers need time to learn how to apply technology usefully.
The students need to fit into this somewhere as well. I mentioned student-centered learning in my previous post, and the importance of addressing the learning model first. The discussion about hardware and software comes later; otherwise, you end up with a mismatch among curriculum, technology and the needs of students.
From our years of seeing technology and education in balance, we at Quest see how the roles for teachers, students and IT managers can change:
Teachers evolve from content experts to facilitators of learning. They know the specific needs and abilities of each student and they have access to the tools students use to personalize their learning.
IT admins and managers become responsible for keeping resources, information and functions only a couple of secure clicks away. They enhance the personalized learning process.
Students accept the task of demonstrating what they have learned through an ongoing process of inquiry. They control much of the time, place, path and pace (for example, in higher education) of their learning.
Our new e-book, Aligning the Learning Model with the IT Model describes these changing roles in greater detail. It applies the concept of student-centered learning to systems deployment and systems management in the form of Quest KACE appliances for education.
Next week, I'll describe the changing role for IT managers. Meanwhile, have a look at the e-book for three case studies and more details on how your role in both K-12 and higher education could soon change.