Organizations considering a migration from Lotus Notes, Novell GroupWise, or other collaboration platforms to Office 365 typically have a considerable obstacle to overcome. These platforms are commonly used for more than just basic email and calendaring, which means the source mailboxes can contain very large attachments. Unfortunately, Office 365 has a built-in limit on the size of attachments allowed and many of these attachments commonly exceed the default limit.
Don't worry- there's some flexibility
Microsoft has provided some flexibility in sending and receiving larger attachments within Office 365, but the new limits do not apply to many of the protocols used during migration. As a result, whether it is a CAD drawing or the latest sales presentation, much of this valuable content is at risk of being lost during a migration to Office 365.
Some migration solutions log these exceptions and continue processing, while other solutions may fail and stop processing the mailboxes altogether. In either case, the end result is lost data and additional complication as organizations attempt to transition to Office 365.
Furthermore, beyond the attachment limit itself, most will agree that email attachments are not the most efficient or effective method of sharing and collaborating on content.
So what is a migrating organization to do?
Fortunately, On Demand Migration for Email (ODME) includes unique, patent-pending technology to automatically detect and manage large attachments during migration. With this approach, ODME automatically creates OneDrive for Business accounts for each migrating user (if required), migrates large attachments to this unlimited storage location within Office 365, and includes a link to the attachment in the original message.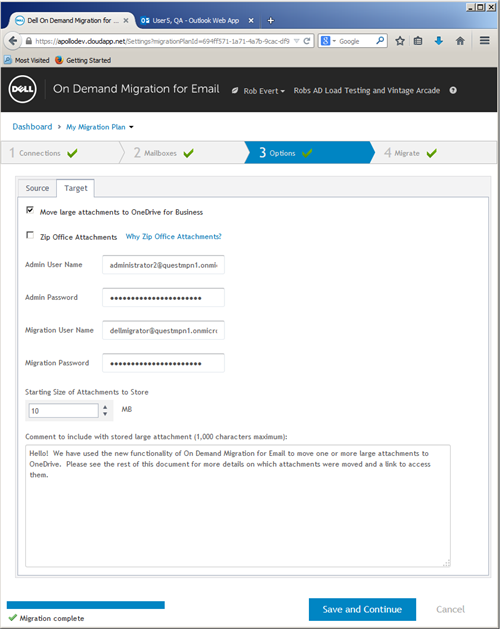 The threshold for processing attachments can be modified to meet the specific needs of each organization, but it defaults to a value appropriate for most Office 365 tenants. Plus, there are options to zip Office attachments and include custom descriptive text in messages containing large attachments.
This automated functionality is similar to Microsoft's recommended approach for email attachments and eliminates the need to find, delete or move large attachments prior to the migration. As a result, this unique technology provides a streamlined way to preserve data that would otherwise be lost and moves organizations closer to the recommend approach for managing attachments. All before they even start using Office 365!
Want to learn more?
Download a free trial or read our latest e-Book that outlines what's new with Microsoft Exchange 2016 and Office 365.