Sherlock Holmes and Doctor Watson are one of history's great crime-fighting duos. Individually, they were keen observers and innovative problem solvers. But together, they overwhelmed the bad guys with the combined power of their superior knowledge and insight.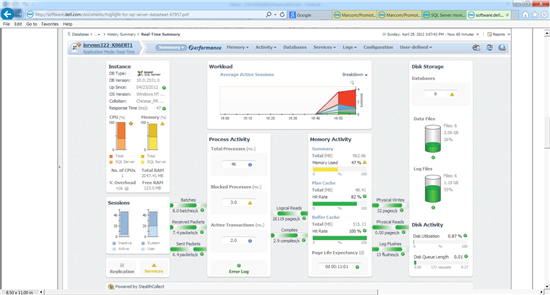 Holmes and Watson
Meet the database-monitoring equivalent to Holmes and Watson – Foglight for SQL Performance Investigator's transaction workload analysis and database-resource monitoring capabilities. Individually, they are formidable, together they are a dominant issue-solving team.
This post is the third and final part of a short blog series on Foglight for SQL Server Performance Investigator. In my first two posts, I covered the six pillars of efficient database monitoring and the changing role of the DBA over the last decade and half.
For today's discussion, let's think of an SQL database domain as a silicon-and-code society whose population is made up of millions of bits of data and where SQL queries are currency from which this society derives value. To support your rapidly growing society and keep it crime free, you need an effective and proactive way to manage it and stamp out crime before it becomes widespread.
Crimes – or database performance issues – usually start small and if not spotted early can spread across an entire database domain. This is whereby putting Holmes and Watson on the case, you can identify issues early and keep petty crimes from growing into those that impact a significant portion of your population of data.
With Foglight SQL-PI's transaction workload analysis and database-resource monitoring on the case, you can head off database performance issues, identify the bad guys, such as bottlenecks and remove them from your law-abiding database society.
With SQL-PI, you get a highly scalable and easily configurable SQL workload analytics engine. It collects and investigates data on baselines, lock analysis and change tracking. It also offers multidimensional drilldowns and historical session data investigations.
And then for added perspective, SQL-PI's resource-monitoring capability presents all the metrics you need to maintain an optimized SQL database environment. It's all right in front of you with dashboards and reporting tools that give you the deep insight into your database resources.
Foglight for SQL Server Benefits:
Get real-time and historical database performance monitoring of both virtualized and non-virtualized databases.
View all your databases with an intuitive, web-based dashboard.
Diagnose and resolve issues faster with multi-dimensional drilldowns and built-in expert advice.
Proactively handle business-critical performance issues with accurate alerts.
Experience simplified installation, deployment and administration, with no install requirements on the database.
For more tips on investigating and preventing egregious crimes against your database, check out our SQL Server performance webcast. It's loaded with pointers to help you monitor and troubleshoot performance crimes like a Holmes and Watson.