A firm's competitive advantage can be enhanced by investing the right amount of capital in the right blend of Business Continuity / Disaster Recovery (BC/DR) technology. The inverse is also true. An insurance firm I talked with finally invested in a DR site after three site-wide outages in an 18 month period. In each occurrence, key lines of business either went dark or slowed significantly for 24-48 hours, crippling the firm's ability to service existing policies or underwrite new ones.
Determining how much to invest depends on available budget, the business impact of downtime, and the choice of technology to reach a given level of availability. Looking at the chart, best practice in economic terms is to blend BC/DR technology so that your total investment is just enough to let your business operate at a level of risk it can stomach. The area near the point of intersection between the cost of downtime and the investment level in BC/DR represents the lowest total cost to the firm.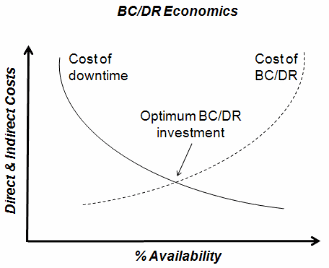 If you under-invest in BC/DR, you run the risk of exposing the business to exorbitant costs in terms of lost business, lost employee productivity, and damaged firm reputation. On the other hand, over-investing might not even be an option if your budget simply won'tallow it. If you do have the budget for increased levels of investment in BC/DR, the larger investment may not generate high enough returns to justify the added coverage.
How does vRanger economically mitigate the business risk associated with downtime for small- to medium-sized businesses? vRanger shifts your BC/DR cost curve downward and enables you to increase BC/DR coverage. It enables your business to reduce risks associated with downtime at lower cost than other options by providing:
Ease of install and use – automates protection of virtual machines at the Virtual Center, data center, host, or virtual machine level. Purpose-built for virtual infrastructures, it eliminates the need for a large, complex agent-based infrastructure, providing quick time tovalue and low total cost of ownership.
Highly scalable architecture – processes multiple jobs in parallel and ensures optimal use of VMware resources with the resource manager to reserve only the resources needed for the job, providing greater ability to meet stricter recovery time and recovery point objectives.
Fast recoveries – a native catalog reducesmanual effort and time to search and restore objects or entire VMs, and restoring over SAN performs up to twice as fast as network-based restores.
Consolidated, integrated backup and replication – adds BC/DR flexibility to significantly expand your options without added cost or complexity.
Full VMware vSphere support – Eliminates theimpact of backup and replication jobs on your production environments. Also supports vSphere 5, so you can safely upgrade with the assurance that your data protection processes remain intact.
Built-in space saving technology – leverages VMware Change Block Tracking and incorporates patent-pending Active BlockMapping to scan only the blocks with active data while skipping zeroed anddeleted blocks, reducing disk space requirements by up to 30%, and significantly speeds up restore operations.