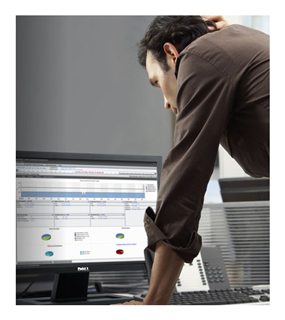 Database admins have a lot on their plate. In fact, when we asked DBAs in a survey about their environments and workload, nearly 30 percent said they were managing between 26 and 100 database instances. That's a lot of data "on the plate"…. Toss in the rapid growth of structured and unstructured data and increased complexity associated with managing cloud or hybrid data center environments and you've got a recipe for some very stressed, overworked DBAs.
While it certainly won't solve all the problems, efficient and optimized management of databases can help ease the burden for DBAs. We put together a three part eBook – Essential DBA Playbook for Optimized SQL Server Management – covering the most important aspects of database management:
Part I: Inventory – Optimization and troubleshooting begins with an updated map of your entire database environment. An inventory of databases and associated data, historic database creation, version stats and service packs as well as server instances and users populate your map to provide a comprehensive look at data under management. It's from this point that you can determine what needs to stay, what should go and where problems are hiding.
Part II: Database Backup and Recovery – With a better understanding of the database instances within your environment, you can make informed, strategic decisions about backup and recovery policies for different types of data. Most platforms have built in high availability capabilities. SQL Servers, for instance, feature database mirroring and log shipping to automate backup and restore. Leveraging high availability capabilities with established policies for a Recovery Point Objective (RPO) and Recovery Time Objectives (RTO) positions DBAs to ease ongoing management.
Part III: Stabilize, Baseline and Breathe – Producing an environment map and using the map to set backup and recovery policies provides DBAs with the foundation for efficient management. Our Essential DBA Playbook outlines the next steps – or really, ongoing tactics – for DBAs to better manage their environment. Those steps include: stabilizing the environment to make sure threats are addressed and data is recoverable, baselining database access and response to better spot emerging problems and deploying code in a systematic way as you update the environment moving forward. Use ongoing database management techniques to be proactive, not reactive.
And if you want the entire playbook in one easy-to-reference volume, get it here!