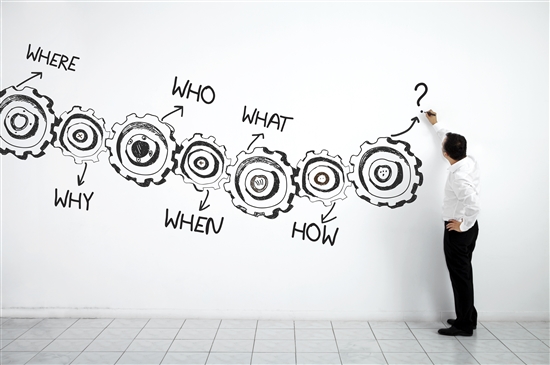 You're probably not looking forward to migrating off of Windows Server 2003, but you'll be better off once you've done it.
It's like that old car that somebody holds on to for 27 years and can't bear to get rid of. The paint is faded, the seats are shot, it doesn't run efficiently anymore, and no matter how loud the radio plays, the road noise and rattles are louder. And it's no longer secure – you can't lock the doors anymore and the ignition switch is so worn that you have to use a screwdriver to turn the engine over.
"But it knows me," the owner says. "Why shouldn't I keep using it?"
Alone, But Not Alone
Of course the car doesn't really "know" him, any more than Windows Server 2003 "knows" you. In the same way that the manufacturer no longer supports the car, Microsoft no longer supports Windows Server 2003, which means that it is officially impossible to keep it running.
That means you'll be alone when something goes wrong, and even in the federal government you're running out of company.
But you're not alone in planning to migrate off of Windows Server 2003. In July 2015, Market Connections conducted a survey to find out how federal agencies are managing their Windows 2003 server migrations. Of the 200 respondents, 44% work in defense agencies and 56% in civilian agencies.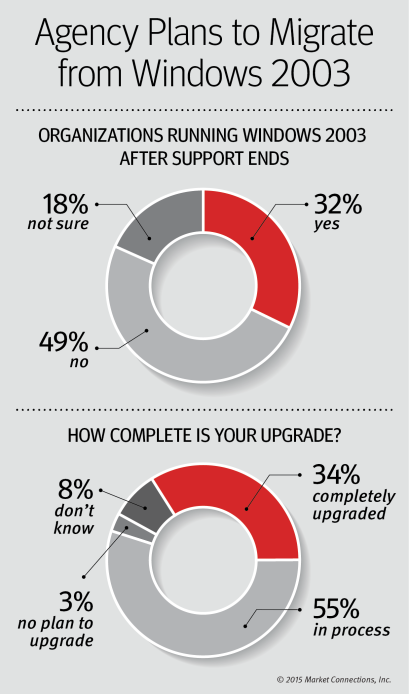 As you can see in the upper graphic, 49% of agencies do not plan to run Windows Server 2003 after support ends (which it did four months ago). But it's worrisome that almost one third do plan to use it. I hope you're not among them, holding onto that dilapidated car and trying to get another year out of it.
The lower graphic is more encouraging, though, in that 55% said their Windows Server 2003 upgrade plan is in process and 34% said it was complete. You should either stay away from those three-percenters who have no plan to upgrade or do your best to find them and persuade them otherwise.
What Can Go Wrong? Lots, If You Don't Prepare
I've managed and worked on migration projects going back to the days of Windows NT 3.51. Even agencies that overcome the biggest barriers to Windows Server migration – applications from other companies, lack of budget/funding, the potential for data loss and worries about downtime – can still hit big snags as their projects progress. Whether in the government or the commercial sector, many customers have a difficult time accurately assessing their environment at the start of the project. When you don't get that right, the rest can only become more difficult.
We look at ZeroIMPACT migration – the kind that causes the fewest headaches for sysadmins, users and management – as a methodology with four phases or pillars:
Prepare
Migrate
Coexist
Manage
We find that the lack of #1 causes huge issues for #2, #3 and #4. So even when you are determined to get rid of the old car, if you don't prepare for your move to the new one, you're in for a bumpy ride.
Stay tuned for more posts in this series. I'll go over the four pillars in more detail and show you the logical progression from one to the next. Meanwhile, have a look at the Market Connections white paper, Windows Server Migration – How to Achieve a ZeroIMPACT Migration, and see where you stand among your federal government colleagues on the spectrum of Windows Server 2003 migration.