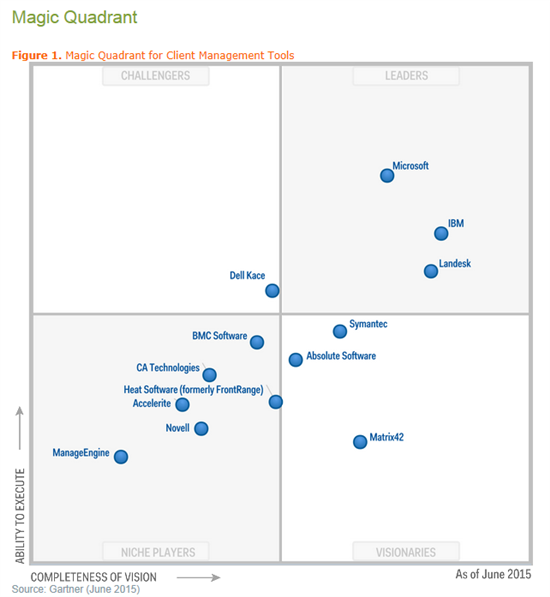 As Gartner releases its annual Magic Quadrant (MQ) results across multiple disciplines, the analyst firm naturally stirs discussion about evaluations and year-over-year advances or retreats in vendor placement, from niche players and visionaries, to challengers and leaders. This is true in the MQ in which my organization's product, Dell KACE appliances, plays – the 2015 Gartner Magic Quadrant for Client Management Tools (CMT). We believe this objective review hopefully provides insightful information for our prospective customers, and helps to position us in their minds as they select client management tools best suited to their organizations. How much then, does the vendor evaluation really matter, and do we feel the 2015 classification accurately reflect our status, at least until next year's report?
Perspective
Let's use Dell KACE as an example of putting the MQ positioning in perspective — reading between the lines and highlighting what we consider some really important differentiators. This year Dell KACE was positioned as the sole player in the Challengers quadrant— not quite a leader, but perched on the Y axis. Concerning? Not to us. In fact, we feel the classification perfectly suits our approach to the systems management — dare we say "challenges" — of today's organization. Let's consider verbatim two of the recommendations Gartner proposes in its recent Critical Capabilities report that accompanies the CMT MQ.
Key Recommendations
First: "Select CMTs that meet your functional and technical requirements and are aligned with the skill set, experience and size of your IT staff for administration and use [1]." I believe many legacy software systems management suites offer functionality above and beyond what most organizations require. In addition, some are so complex that they require extensive training and dedicated IT staff to obtain desired results. Providing comprehensive capabilities that are easy to use for IT staff of all levels has been our hallmark, and will continue to be the driving force of our solution. As systems management tasks become more complex, encompassing support and security for even more operating systems and device types, your systems management solution shouldn't have to follow suit.
Second: "Avoid CMTs that require substantial incremental resources or expertise beyond what is available or will be in place during the next six to 12 months [1]." As a challenger, we believe our KACE appliance-based approach to systems management is grounded in an all-in-one, plug-and-play approach that does not require additional hardware or software investment, includes comprehensive functionality that deploys in days without costly professional services, and offers nearly immediate business return for organizations of all sizes.
Challenger? Not a problem.
In a realm of relatively mature technology, we're happy to shake up the world of client management solutions, and hope you'll dig deeper into the MQ results when determining how they best match the needs of your organization. We invite you to read between the lines in the report accompanying the 2015 Gartner Magic Quadrant for Client Management Tools to see Gartner's evaluation of KACE.