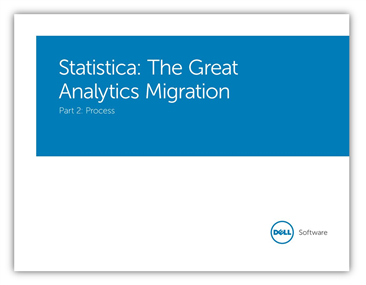 Uttering the word "process" will likely send a shudder down a business or IT pro's back, anticipating the planning, resources, timelines and deadlines all part of said process. Despite resistance, in many cases and especially when facing a major IT migration, it's the process that ensures all stakeholders are satisfied by the result.
We recently migrated its entire legacy analytics platform to Statistica – and we're hoping our experience will help other companies in their own migrations. In Part I of the Quest e-book about our Statistica deployment, we reviewed the steps we took to get our people – all associates that touch the analytics platform – on board at integral parts of the migration.
The fear of a major migration shouldn't stop your organization from deploying a better solution. Learn how Dell moved to a new analytics platform in the e-book, "Statistica: The Great Analytics Migration."
In Part II of the e-book, we're addressing several process-orientated challenges and questions. A few important process lessons learned:
The migration "process" starts before you even realize – and no one likes surprises: Even if the executive staff or IT decision-makers share plans with all stakeholders as soon as the project is confirmed, anticipate that some savvy stakeholders already suspect a change afoot. For us, our associates expected a change when Dell acquired Statistica. For other companies, it could be a poor performing analytics platform or a change in executive leadership which could signal a migration. Either way, informing those involved sooner rather than later will limit the number of people caught off-guard.
Investing time in laying the groundwork is well worth the effort: Before a single action was taken, Dell pooled every available resource from the Statistica team to truly understand the platform and IT requirements. That process alone took a month. But it was valuable time spent to plan and align expectations. Better informed stakeholders could more quickly and accurately answer other process questions:
- How long with migration take?
- How many users really need to migrate?
- How fast can we be up and running?
Centers of Excellence are monumentally important: Creating Centers of Excellence (CoE) sounds like a process in of itself, doesn't it? However, it's these groups of stakeholders organized by business function that help the organization with a migration overall. CoE provide valuable insight on how the project can be helped by or can help each business function. At Dell, our CoE identified analytic platform users that should be part of the migration, which helped our team resource appropriately.
Process-oriented planning is tough and it's a challenge to get all associates on board with the rigor necessary to make a migration successful. But the advantages of process planning far outweigh the perceived time savings expected to be gained by rushing through a migration. In fact, with pre-planning Dell was able to get hardware online and ready to accept users in a five week period – a task that should take 3 months!
For more insight into how Dell ticked through the process-oriented questions we faced, download the e-book, "Statistica: The Great Analytics Migration, Part II: Process." Whether your organization is migrating 10 users or 10,000 users in a 6-week or 6-year project, our answers may help your migration process go smoothly.