You want to run your business on data and deliver results right now. Who doesn't? But to achieve these goals, you need to bring together data from disparate sources and perform in-depth analysis. How can you achieve agile data integration while helping to ensure the quality and consistency of data at the same time?
In this Dell on-demand webcast, Philip Russom, research director on data management for the research firm TDWI, outlines three pillars for agile data integration. By building on these pillars, organizations can deliver data integration solutions sooner, better align solutions with business goals and ultimately free up resources to develop more solutions.
Pillar 1. Enable self-service data integration
The process of gathering requirements for data integration can be time-consuming, but according to Russom, it doesn't have to be. Providing technical and business teams with self-service tools that incorporate data profiling, data discovery and data visualization capabilities can accelerate the process. Those tools help teams record requirements as they work, helping to eliminate the weeks or months of interviewing various stakeholders.
Pillar 2. Capitalize on rapid data set prototyping
Creating data set prototypes early in the data integration allows you to sustain high data quality and avoid issues down the road. Fortunately, many self-service tools enable rapid prototyping of data sets. Technical and business team members can conduct simple data extractions and transformations to produce prototypes quickly and easily.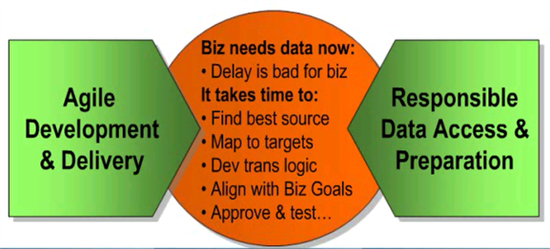 You can achieve agile development and delivery of data integration solutions while also addressing responsible data access and preparation requirements that help ensure the quality and consistency of data.

Pillar 3. Employ data stewardship and facilitate collaboration
Data stewardship plays an important role in successful data integration. A data steward is a member of a business group who helps ensure data management efforts meet business requirements and who can deliver a rapid return on investment. When data stewards collaborate with technical staff on data integration projects, organizations can better align technical work with business requirements. The result is faster development of data integration solutions and fewer overlapping tasks that can delay project completion.
Having the right tools can make it easier for organizations to build on these pillars. In the same webcast, Peter Evans, a business intelligence and analytics product evangelist at Dell, highlights Quest for information management that can help organizations take advantage of these pillars and achieve successful, agile data integration.
Ready to learn more? View the data integration webcast.