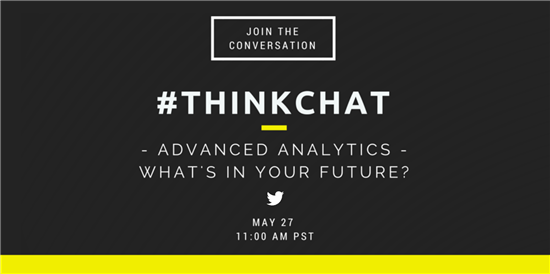 Follow #ThinkChat on Twitter Friday, May 27, 2016, at 11:00 AM PST, for a live conversation exploring the impact of what the future holds for you and your analytical approaches to business enhancement!
Join @DellBigData for the May #ThinkChat tweet up where we hope to explore and predict how we will want to leverage and expand the use of analytics in our lives – both at a data and metric level. After all, you can't have advanced analytics without the fundamentals tackled and mapped. Bring your questions and your best practice experience to share with folks that are exploring the idea of analytics, and for those of us just getting started, bring your future visions of how things can and will be different by delivering analytics to the business. Whether you have ideas that involve delivery an acronym soup (ETL, BI, EDW, HDFS) or if you are more interested in sharing and learning how the business improves with the deployment of advanced analytics in the form of practical use cases or just questions about how to get started and where to go for more information-this Tweet Up can be the place for you. Meet, mingle, share and learn. We hope to see you there!
Join Shawn Rogers (@ShawnRog), marketing director for Dell Statistica, Joanna Schloss (@JoSchloss), BI and analytics evangelist in the Dell Center of Excellence, and David Sweenor (@DavidSweenor), product marketing manager at Dell Statistica for this month's #ThinkChat as we conduct a community conversation around your thoughts and real-life experiences!
Follow #ThinkChat on Twitter and join the conversation!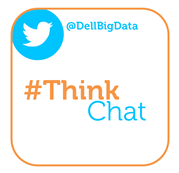 Where: Live on Twitter – Follow Hashtag #ThinkChat to get your questions answered and participate in the conversation!
When: May 27, at 11:00 AM PST
Questions discussed on this program will include:
1. What is "Advanced Analytics"? Why is it so important?
2. Do you feel like your organization successfully uses analytics to make decisions?
3. How would you describe your analytic solutions? BI, predictive, advanced analytics, reporting, spreadsheets?
4. Does your business have data scientists/business analysts working toward analytic insight?
5. How does your business share or distribute analytic content?
6. Where do you go for analytic support?
7. Where do you go to learn and investigate new analytical innovations? Books, Blogs, Companies Doing this well?
8. What lessons or key takeaways have you learned from implementing your own analytic systems?
9. What were the key metrics or milestones that made your projects successful?
10. What was the most challenging obstacle for delivering on your analytic initiative?
11. What are your favorite software tools, resources, or solutions you would recommend and why?