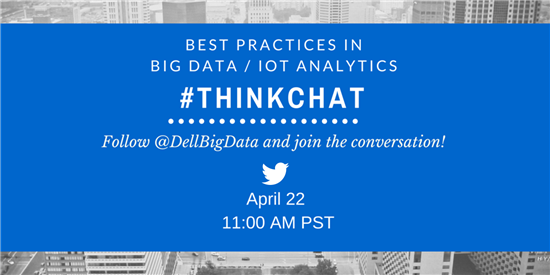 Join us April 22nd at 11:00 AM PST for this month's #ThinkChat event live on Twitter! Talk with and learn from folks in the industry on how to successfully implement Big Data and IoT projects. This month's #ThinkChat gives us an opportunity to share and discover what technologies others have been experimenting with to deliver on both Big Data / IoT initiatives. We will invite Big Data gurus along with IoT implementers to join in the conversation. Hope you will join us as well!
Follow #ThinkChat on Twitter and join the conversation!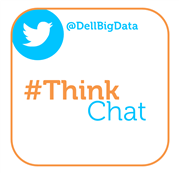 Where: Live on Twitter – Follow Hashtag #ThinkChat to get your questions answered and participate in the conversation!
When: April 22, at 11:00 AM PST
Questions discussed on this program will include:
How do you or your organization use Big Data and IoT on a regular basis?

Have you experienced hurdles when trying to implement Big Data and IoT initiatives? How did you overcome these?

What ideas and experiments did you attempt and what where the lessons learned from these innovations?

How do you define success?

What resources can you share for others looking to implement Big Data and IoT initiatives in their organization?

Iterations seem to be the natural path to success, when did iterations go from experimental to production?

Analytics measure success, at what point did the analytics help you?

Perhaps the analytics allowed you to redirect or review the project?

Are there any professional organizations that offered advice that you found helpful?

Open forum - anything else you want to discuss.