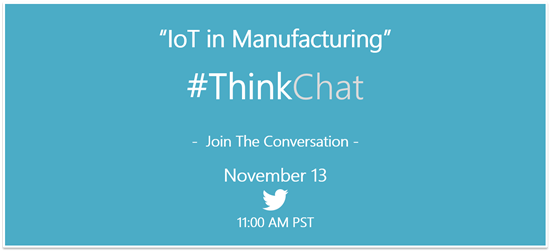 Follow #ThinkChat on Twitter this Friday, November 13, at 11:00 AM PST, for a live conversation exploring the impact of the Internet of Things (IoT) on manufacturing initiatives.

The Internet of Things (IoT) may sound to you like the stuff of science fiction. Or it may seem only like the next hyped phrase in the big data anlalytics space. Or maybe it is something that you (or one of your competitors) may already be embracing with practical and beneficial results. Regardless, there's always a nagging feeling that there's more to the IoT than manufacturers may realize and that the future success of your supply chain, product quality, and sales initiatives may depend on it.

Join Shawn Rogers (@ShawnRog), marketing director for Dell Statistica, and Joanna Schloss (@JoSchloss), BI and analytics evangelist in the Dell Center of Excellence, for this month's #ThinkChat as we conduct a community conversation around your thoughts and real-life experiences with IoT in manufacturing.
Join @DellBigData and share your own personal stories about IoT and follow #ThinkChat this week.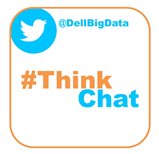 Questions discussed on this program will include:
What does IoT mean to you and your business?
How have you seen IoT used in manufacturing?
On the day to day, how do you use IoT?
What books or blogs do you recommend for more information on IoT?
Are there any barriers to the adoption of IoT in manufacturing?
What exactly is connectivity? Is the IoT always "on" or can things connect themselves temporarily?
What is the difference between "Internet of Things" and "many things with communicative apps?"
Security & hacking: Are you concerned about who monitors or "owns" the network connectivity itself?
Does database storage play an integral role in IoT structure?
We've heard of IoT analytics "at the edge," but is the edge a moving target that will grow infinitely?

Where: Live on Twitter – Follow Hashtag #ThinkChat to get your questions answered and participate in the conversation!
When: November 13, at 11:00 AM PST