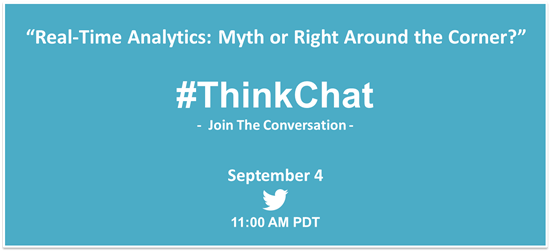 Follow #ThinkChat on Twitter Friday, September 4th, at 11:00 AM PDT for a live conversation and discover how your peers are using real-time data and analytics!
The state of analytics is evolving fast and while more people within the business are utilizing and relying on the value that analytics presents, new demands for faster insights are stretching our traditional analytic infrastructure. Real-time analytics are an exciting opportunity for many companies. Do you have the architecture and tools you need to match the speed of the business?
Join Shawn Rogers (@ShawnRog), Chief Research Officer for Dell IMG, and Joanna Schloss (@JoSchloss), Quest's Analytics Thought Leader and special guest Dean Abbott (@DeanAbb) Chief Data Scientist at SmarterHQ, for this month's #ThinkChat and talk with the community about how real-time analytics is impacting your business.
Join us and share your own personal stories about real-time data or analytics!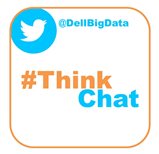 The #ThinkChat Agenda Includes:
What solutions/tools do you or your organization use for real-time analytics? What are your favorites?
How does real-time affect your day to day decision making?
Do you see a real need for real-time analytics?
What hinders you or your org from achieving real-time decision making with real-time data?
Promote your favorite sites/brands - where do you go to meet analytic professionals?
Do you have any favorite books or blogs on big data and real-time analytics?
What is your opinion on where or how real-time evolves? Where is it going from here?
Is your architecture ready to support real-time analytics?
Are there specific workloads that are moving you toward real-time analytics?
Where: Live on Twitter – Follow Hashtag #ThinkChat to get your questions answered and participate in the conversation!
When: September 4th, at 11:00 am PDT